There's no question that installing a pool is an expensive proposition. It's also a complicated one. Installing a pool requires a lot of skills, from concrete to plumbing, to electrical. Even a little chemistry. So it makes sense to want to save as much money as you can.
Going the owner-builder route is a great way to do this because it cuts out the costs of hiring a pool contractor to coordinate the project, but just how much does this save you on your installation costs? It's a tricky question to answer, so let's break it down.
The Home Improvement Triangle
Any homeowner who wants to do a project on their own must weigh three factors: time, money, and skill. If you want to reduce one of these factors, you will have to increase the others.
The traditional pool installation trades money to reduce skill and time. You don't have to spend weeks with a shovel and you don't have to study plumbing and electrical. But it costs a lot of money to do it, and if you want it done fast, you'll pay even more.
The other extreme is a complete DIY pool build. Let's say you worked for a pool builder on other projects and wanted to build your own pool yourself. Your increased skill reduces the amount of money you need to spend, though doing it all on your own will also increase the time. This only works to a point because of material costs. Most people don't have the skills to do a complete DIY pool install on their own.
Owner-building strikes a middle ground. Instead of taking on the skills of an excavator or a plumber, you take on the job coordination skills of the general contractor. You handle the permits, arrange the subcontractors, and get the blueprints and specifications. By learning these skills, you reduce the money you need for the project, and possibly the time if it's a busy construction season.
Are There Average Savings for Building your Own Pool?
Pools, features, and landscaping vary drastically from yard to yard, but you can usually save at least $6,000 by going the owner-builder route over the traditional pool contractor. If you have some skills needed for installing your pool and you're willing to take the time, you could save additional money doing parts of the job yourself.
For time and safety reasons, homeowners will need to contract out the excavation of the pool area and the electrical wiring. For the rest, the more you can do on your own the more you'll save, though at a price of time and effort.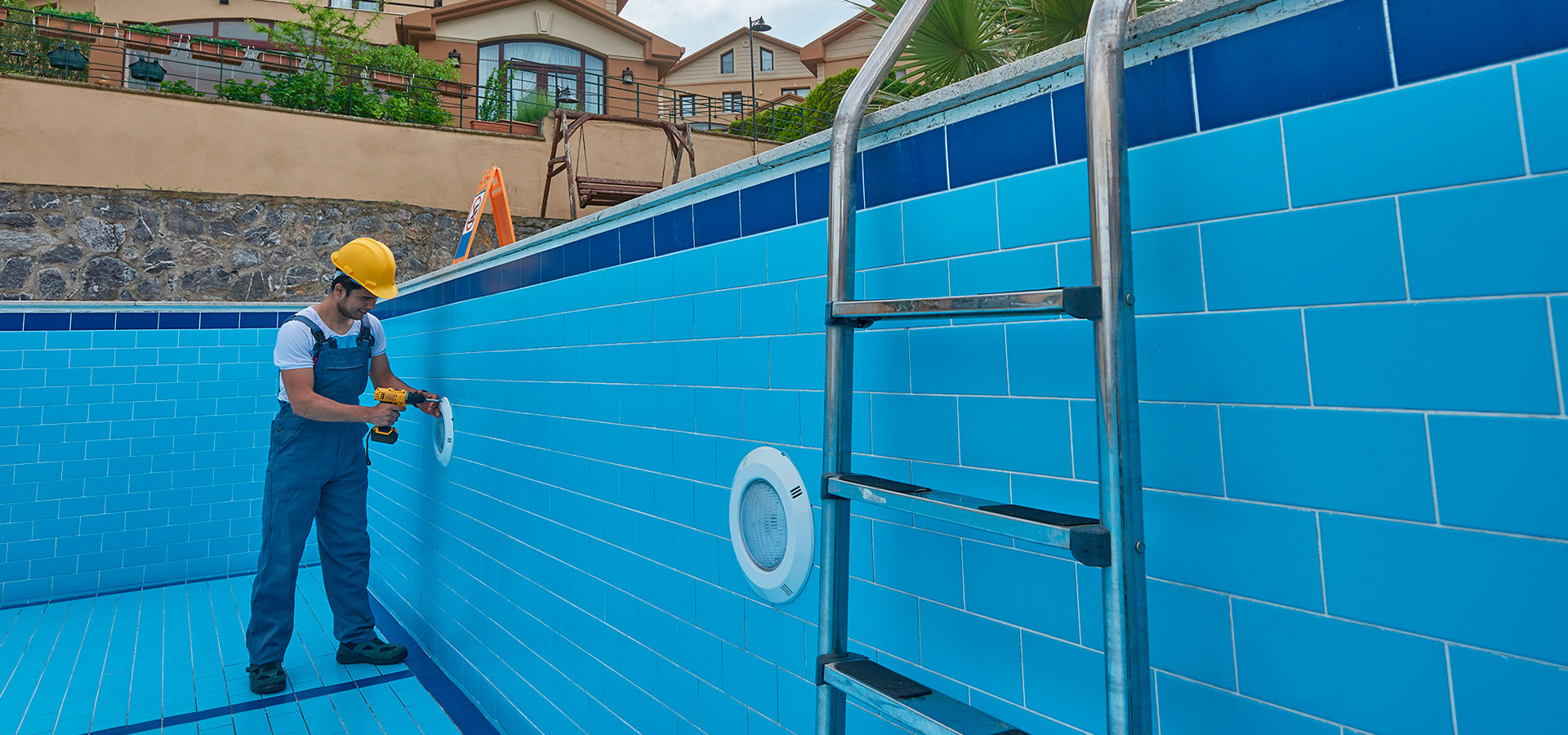 Other Ways to Reduce the Cost of a Pool
Bigger is not always better
The absolutely simplest way to save money on inground pool is to make it smaller and shallower. Larger pools mean more digging, more plumbing, bigger pumps and filters, more chemicals, and more insurance.
Plan your location carefully
Moving your pool closer to the home can also save you some money. A closer pool means less digging for pipes and electrical lines, and you can avoid unnecessary decking and pool paving. However, building codes may require you to keep your pool a certain distance for safety reasons and for fence installation.
Trees only get in the way
Another way to scrimp is to avoid planting trees and shrubs in your backyard landscaping. These cost money to maintain on their own, and plant material can drift into your pool water. That means more cleaning and more work for your filters. There's a reason tropical plants are more popular around pools. They shed less!
Save on Features
Think twice about adding features like slides and fountains if you're worried about your budget. These also require specialist contractors, especially fire features where you may need to run a gas line. Each thing you add will add to the cost of your pool.
Getting Professional Blueprints also Saves you Money
One of your most significant responsibilities as an owner-builder is to have accurate blueprints and specifications. Without these, your subcontractors could make costly mistakes that could cost you thousands of dollars.
POOLAID's complete construction assist package will guide you through designing a blueprint of a backyard, including taking accurate measurements, generating renderings, and working with our design library and drafting professionals to create a plan that works for your yard.
Trying to draw up your own plans without expert guidance is a sure road to more expense! With our engineered plans in your hands, you can go to your local planning office to pull permits and hire contractors without worrying that a flaw in the design will ruin your installation.
Going the owner-builder route can definitely save you thousands of dollars, but buying more pool than you need or adding too many features could raise costs enough to make you think twice. Contact us, POOLAID can help you find the right pool design for your budget and help you avoid costly mistakes.