Swimming pools can be a great addition to any backyard, providing a place for exercise, relaxation, and entertainment. However, with so many options available, knowing where to start when designing the perfect pool for your home can be challenging.
POOL AID can help you develop unique and gorgeous pool design ideas. We provide 3D pool designs and renderings to help you choose modern designs that fit your budget and preferences. 
Here are some of the best pool designs that you should consider installing in your backyard to elevate its aesthetics and overall functionality:
Stunning Swimming Pool Ideas You Should Consider
Create a poolside garden bed filled with various annual and perennial flowers. Surround your pool with colorful flowering plants such as hibiscus or bougainvillea for a tropical feel. Furthermore, incorporate floating plants like water lilies or lotus into your swimming pool design ideas for a tranquil, natural look.
When designing pool plans, explore the negative edge, infinity edge, or vanishing edge to blend seamlessly with the surrounding landscape. Draw your backyard pool designs strategically to frame the view, whether it's a mountain range, ocean, or city skyline. 
Choose clean, geometric shapes and lines for your pool and surrounding deck. Use LED lighting, waterfalls, and infinity edges for a wow factor. Additionally, use sleek, contemporary materials such as glass, concrete, and stainless steel in your modern residential pool designs.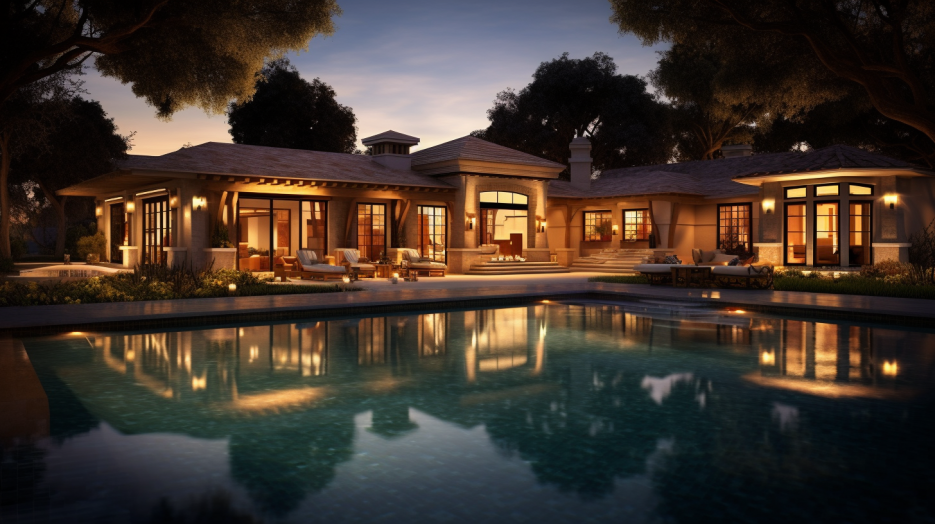 Add colorful, playful accents such as string lights, throw pillows, and outdoor rugs to create a festive atmosphere for your swimming pool ideas. Place a cabana or covered area for shade and a place to gather. Consider adding a fire pit or fireplace for a cozy atmosphere.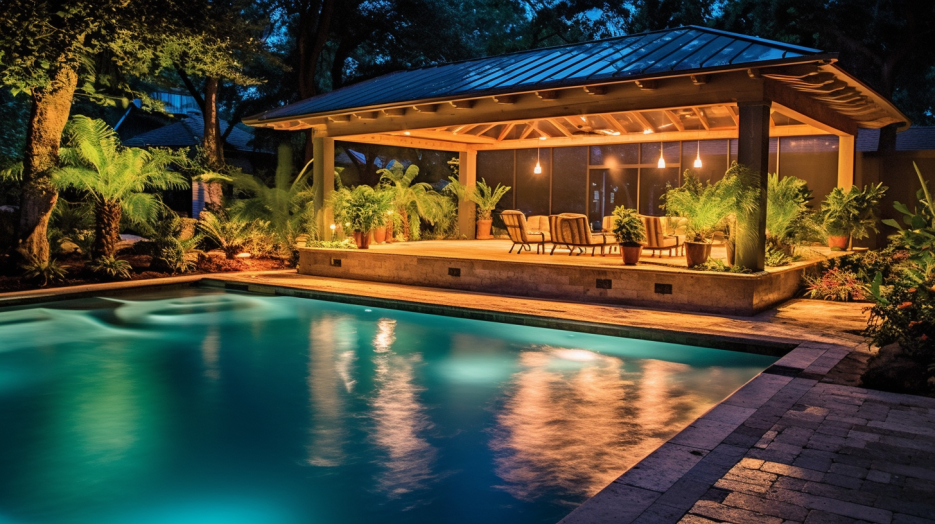 Consider adding features like a waterfall, grotto, or bridge to enhance the tropical feel of your inground pool designs. Use plants such as palm trees, hibiscus, and bougainvillea to create a lush, tropical atmosphere. 
When designing pools on a budget, try a long, linear design to make the most of the space of your small pool designs. Add a deck or patio along the length of the pool for additional space to relax and entertain.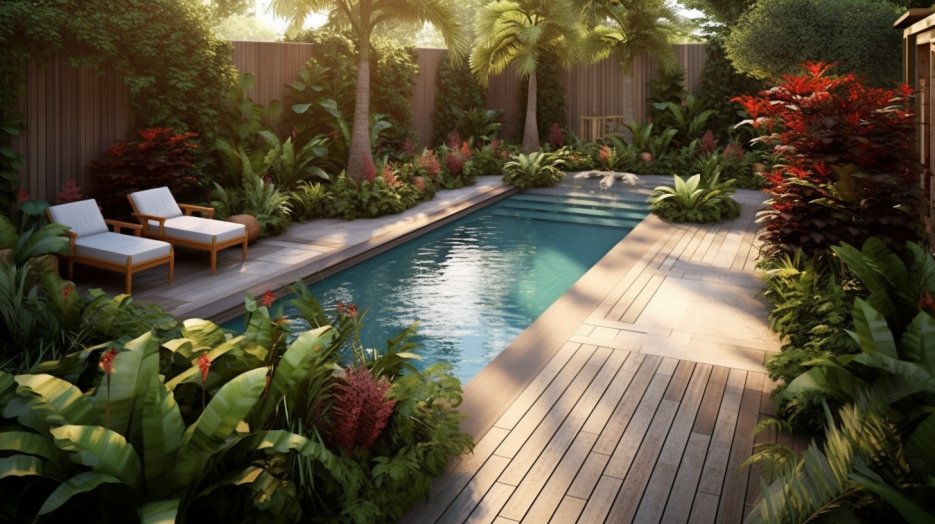 Use colorful tiles to create a mosaic design on the floor or walls of the pool to your pool designs. Incorporate tile borders or patterns along the edges of the pool.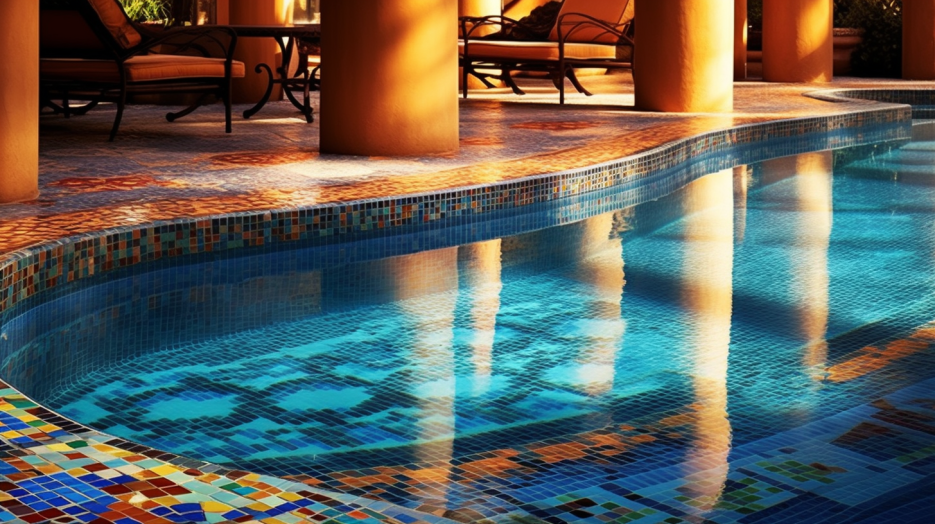 Integrate features like waterfalls, rock formations, and ponds to bring a sense of the outdoors into the pool area. Use native plants in the landscaping pool design ideas to create a sense of connection to the local environment.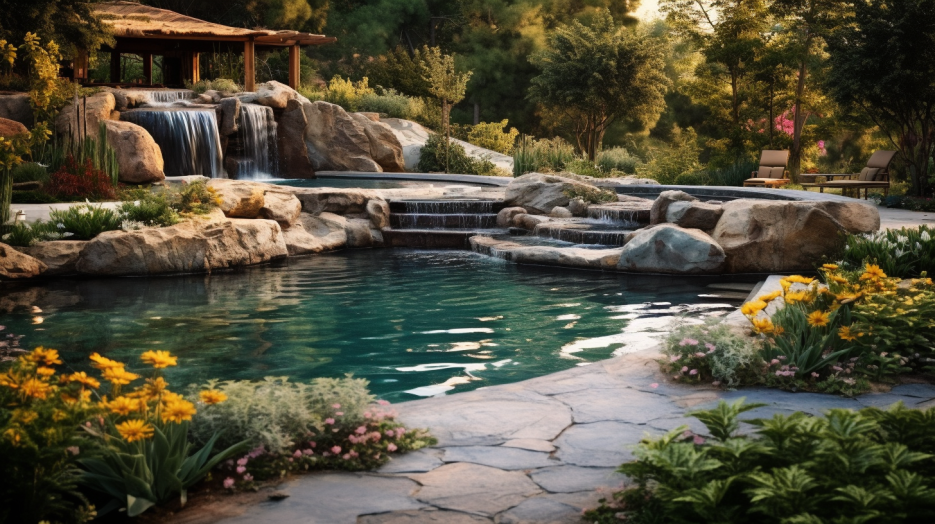 Utilize LED lighting to create a dramatic effect in the pool and surrounding area. You can also use underwater lighting to highlight features like waterfalls or to create a romantic ambiance for your pool landscape designs.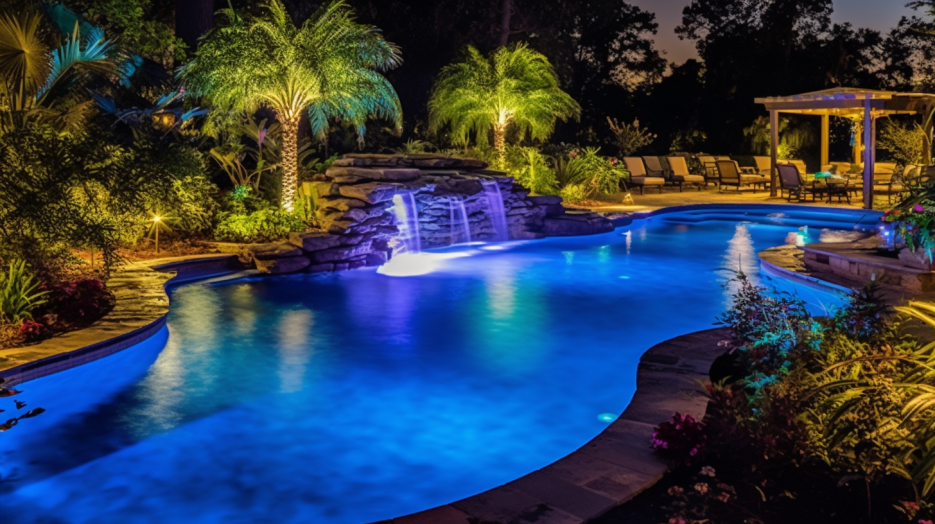 Incorporate a spa, fountain, or water feature to add interest and dimension to your modern residential pool designs. Consider adding a deck or patio along the length of the pool for additional space to relax and entertain.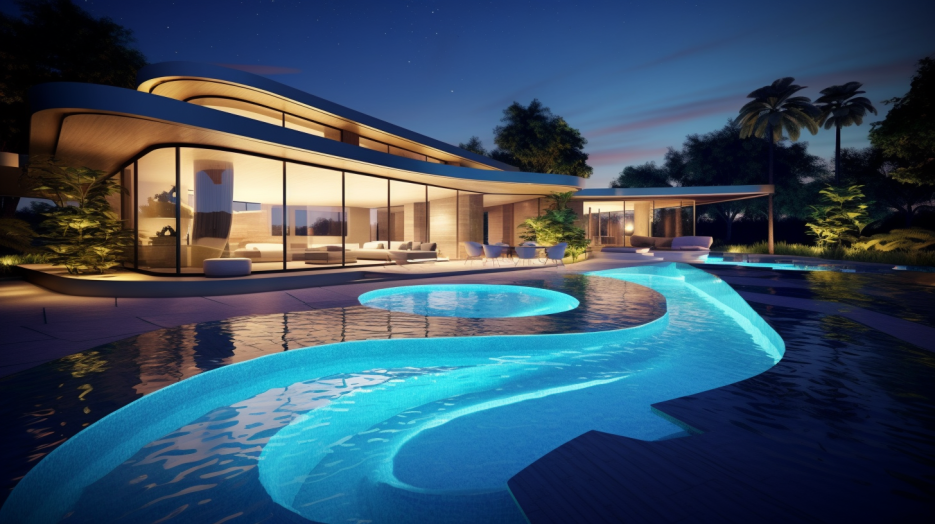 This visually striking feature creates the illusion of water spilling over the pool's edge into the surrounding landscape, adding a touch of sophistication to any outdoor space. Be wary of pool design regrets to avoid, such as going over your budget.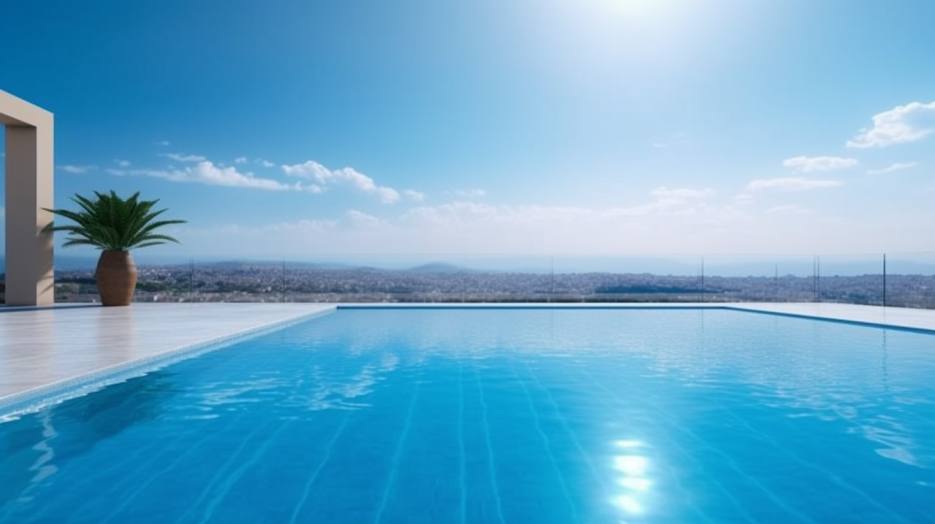 Add this feature to your swimming pool ideas. It is the perfect way to unwind after a long day or add a romantic touch to a special occasion. Illuminate your pool with strategically placed underwater lighting for a mesmerizing nighttime swim.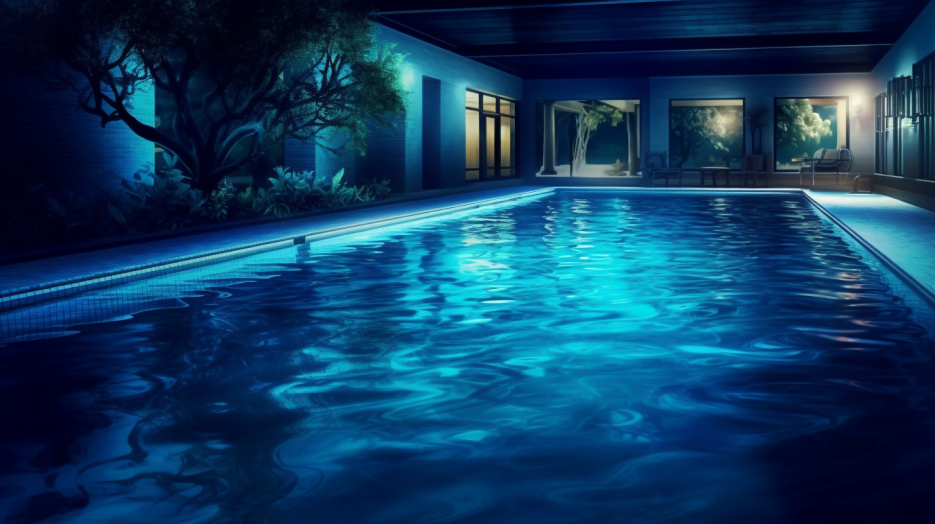 Make your pool the ultimate summer hangout spot with a built-in bar prep area for your cool pool designs. Add a mini fridge, sink, and counter space to mix refreshing cocktails and serve snacks.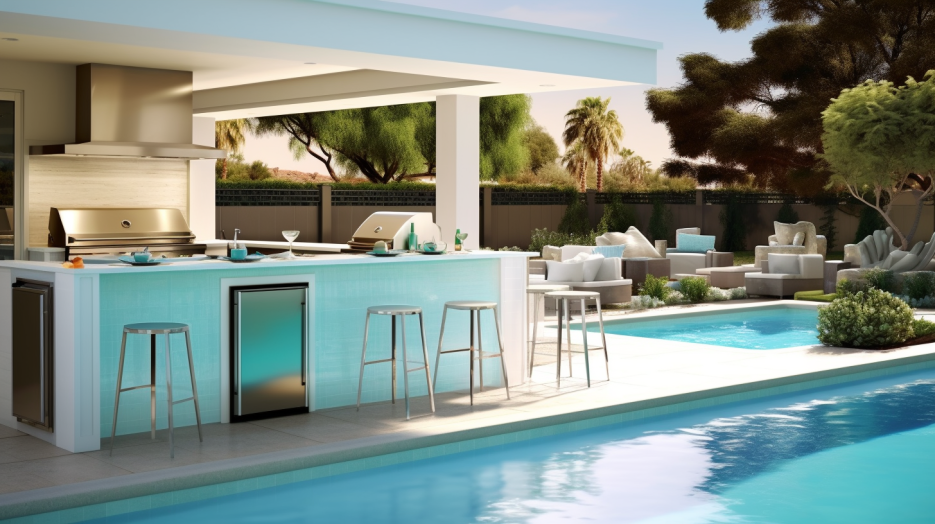 A fence is a practical and stylish way to ensure the safety of your pool and those around it. Choose from various materials, styles, and heights to create a barrier that matches your home's aesthetic and fits your needs.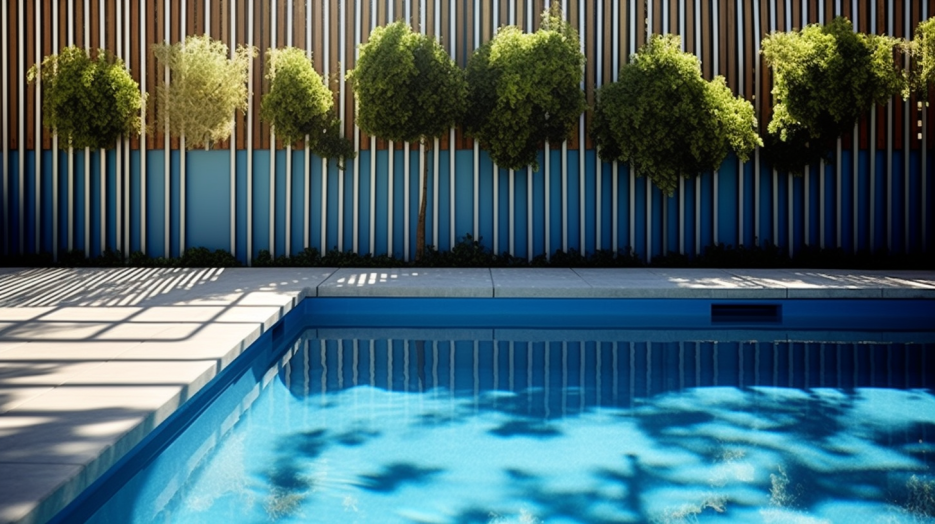 Make your pool design ideas mirror your home's overall aesthetic by matching its design to your home's style. Choose materials, colors, and shapes that complement the look and feel of your house for a seamless outdoor extension of your living space.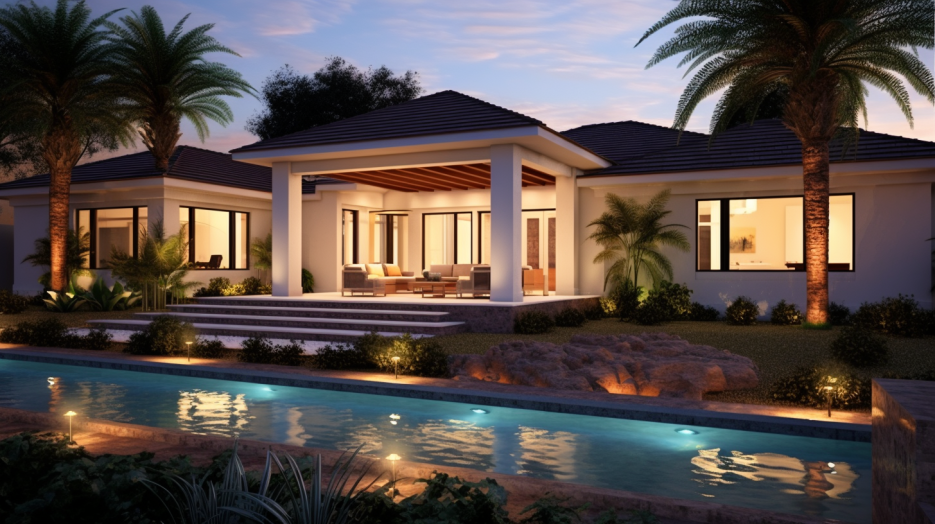 Don't let a small backyard keep you from having the pool of your dreams. Try a compact pool or spa in your outdoor space. These smaller options can still provide all the fun and relaxation of a traditional pool.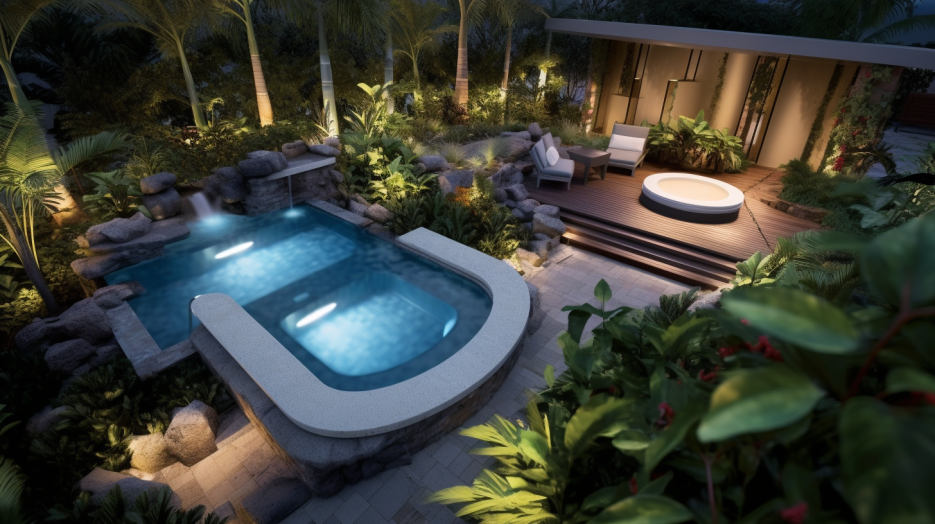 A separate hot tub area provides a relaxing, therapeutic retreat within your backyard oasis. If you have the extra budget, you can install massaging jets, a built-in waterfall, or other features for the ultimate spa experience.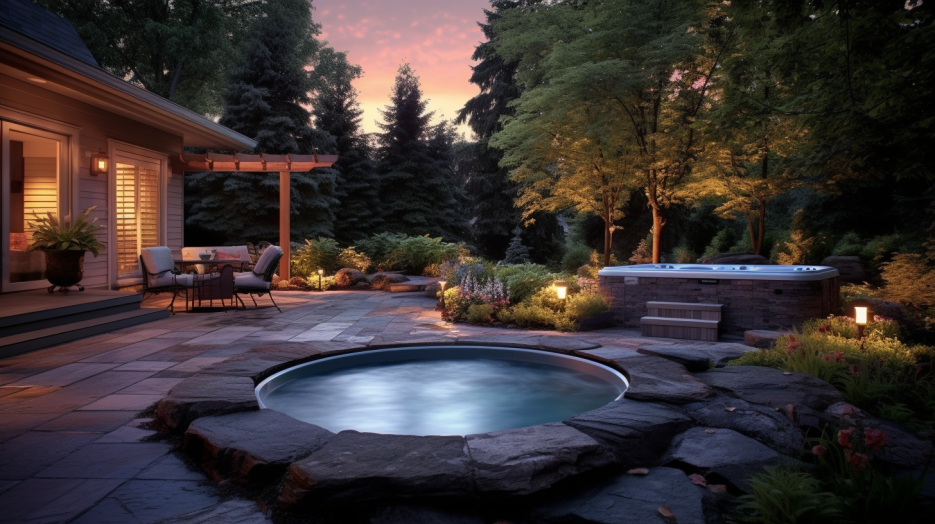 Take your pool to the next level with luxurious features like a swim-up bar, water slide, or sun shelf. These indulgences add fun and entertainment value and create a resort-like atmosphere in your backyard.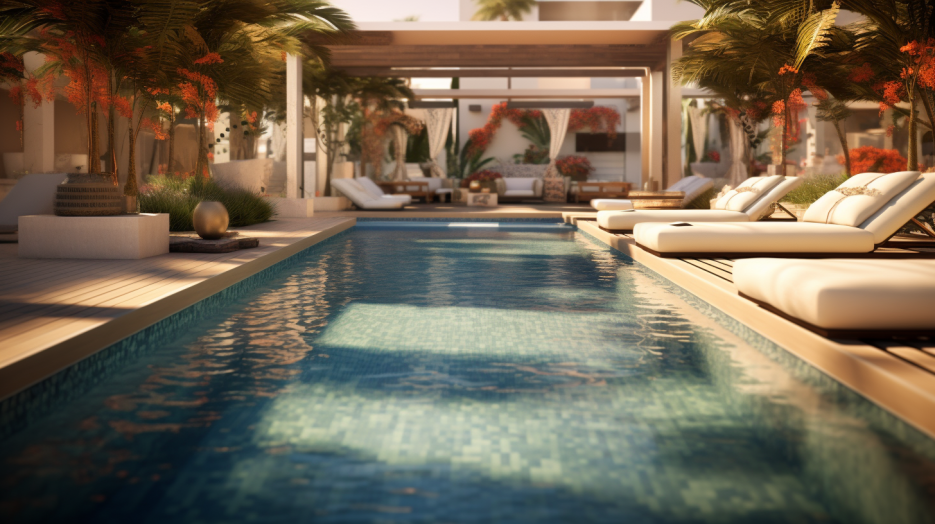 Make a splash with a vanishing-edge pool design featuring a mini waterfall. This stunning feature adds visual interest and the soothing sound of cascading water to your outdoor space.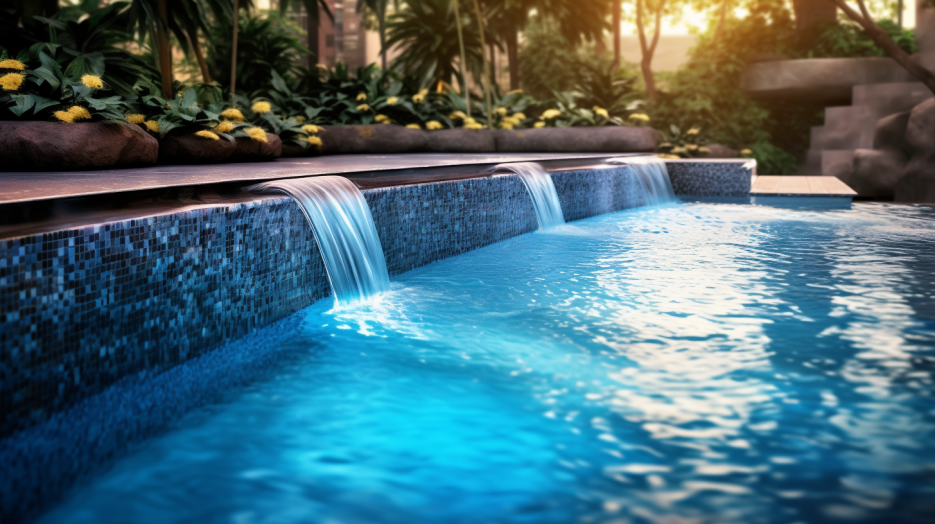 Summary
Many options exist, from a mesmerizing vanishing edge to a luxurious spa addition to elevate your space and create a resort-like atmosphere. Don't let a small yard limit your vision – consider incorporating a compact pool or spa to achieve the same level of relaxation and enjoyment.