There are many benefits to having your own pool, but pool ownership also comes with a lot of responsibility. You have to care for your pool and keep the water clean and safe for your family. And when winter comes along and temperatures drop, you'll need to know how to winterize a pool properly to avoid any unwanted problems.
But how to winterize a pool? Well, the whole process can seem a little complicated at first, especially if you don't have too much experience. However, once you know how to winterize a pool, you should find that it's easier than you originally thought. This guide will cover all you need to know when closing a pool for winter.
When to Start Prepping Your Pool for Winter
Before we look at the steps of the winterized pool process, it's important to think about when is the right time to start thinking about closing a pool for winter. No matter whether you're talking about in-ground pools or above-ground pools, you need to get the timing right.
In general, the best time to winterize the swimming pool is when the swimming season is over, but the right time for your pool may depend on local weather conditions. A good rule of thumb is to start to winterize the pool when the temperature is consistently under 65 F. If you start earlier than this, there may be a risk of algae growth in your pool water.
How to Winterize a Pool of Any Kind
So, how do you winterize the swimming pool? Well, the process can be a little different, depending on which kind of pool you have. The process of winterizing an above-ground pool is a little different compared to when you winterize an inground pool. Let's look at step-by-step processes for each variety.
How to Winterize An Above Ground Pool
Remove Accessories – The first step of the process is to get rid of any accessories or items that are lying around in the pool. This can include cleaners, steps, ladders, solar blankets, and more.
Deep Clean – Next, you need to clean your pool. Use your cleaning items to get rid of silt, dirt, debris, and leaves from the water. This will help when it comes to adding chemicals later on and preventing algae or mold from growing. Once this is done, keep the pool covered for the next steps to keep it clean.
Test and Adjust the Water – In the days before closing your pool, test the water to see the alkalinity and pH. The alkalinity should be between 80 and 150ppm, while the pH should be between 7.2 and 7.6. Adjust as necessary using chemicals and treatments.
Reduce the Level – It's also important to reduce the water level in your pool. It should be around one foot lower than the skimmer when using mesh covers, or around ½ a foot if using a solid cover.
Disconnect Equipment – Disconnect all hoses from your above-ground pool and plug the outlets. Then drain any extra items of equipment to prevent them from being damaged by freezing temperatures.
Add Chemicals– Add some shock and algaecide to your pool to get rid of bacteria and algae.
Air Pillow – An anchor is an air pillow in the center of the water to absorb the expanding ice.
Cover Up – Finish off with a safety or winter cover.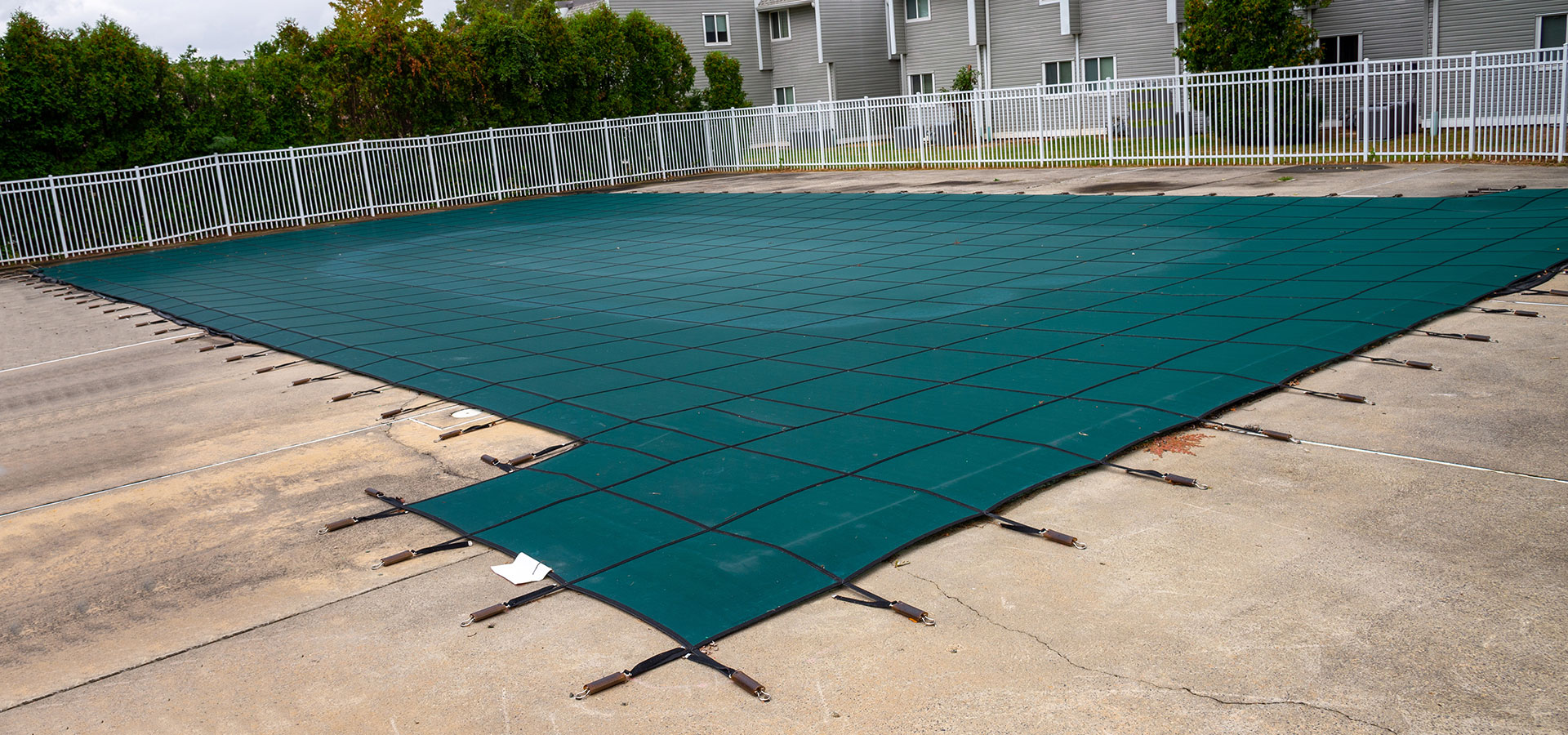 How to Winterize an In-Ground Pool
Remove Accessories – The steps to winterize the inground pool are actually almost identical to above-ground pools, but with one or two key differences. The process starts the same way, by removing any pool accessories or pieces of pool equipment.
Deep Clean – Just like with an above-ground pool, you should then clean your in-ground pool thoroughly. Use your cleaning tools and accessories to remove dirt, leaves, and debris.
Test and Adjust the Water – You should also test your pool's water and make any adjustments to get the pH between 7.2 and 7.6, as well as the alkalinity level between 80 and 150ppm.
Reduce the Level – You'll need to drain out some of the water from your pool to around 1 foot below the cover when using mesh or ½ foot if using a solid cover.
Drain Equipment – Drain all of the filters, pumps, and heaters from your pool, and remove filters to store elsewhere. You should also clean the pool lines with the aid of a blower and plug return lives with expansion plugs.
Add Chemicals– Use shock and algaecide to keep your pool free of bacteria and algae.
Cover Up – Add a safety or winter cover to your pool to finish the process.
What Chemicals Do You Put in a Pool When You Close It for the Winter?
As well as adding winter covers, a key part of the process to winterize a pool is adding chemicals. The chemicals you need may vary slightly based on the kind of pool system you have. However, in general, you'll need to use the following chemicals when closing a pool:
Pool shock
Stain treatment
Algaecide
Floater
Closing a Pool for Winter: Final Word
As you can see, the process of winterizing a pool isn't too complicated, and this process can help to save you lots of money in the long run. So make sure you follow all of the steps carefully and use the best quality equipment to keep your pool safe. Contact our experts for more information and speak with trusted pool designers for other pool-related subjects.