Swimming Pool Builders Plans & Blueprints
Swimming Pool Plans & Blueprints
"Pool Builders Plan Details"
Our main design process starts with a preliminary, this is a prerequisite to all other services we offer.
Zoom Meeting With One Our Design Staff To Discuss All Your Project Details.
Concept Completion For Your Review Within One Week Of Your Zoom Meeting.
Your 3D Concept Pictures and Video Will Include The following:

Pool Design
Attached Spa (Optional)
Raised Bond Beams (Optional)
Attached Water Features (Optional)
Firepit (Optional)
BBQ Concepts (Optional)
Patio Cover (Optional)
Hardscape and Deck Work
Basic landscape
Yard Lighting
Outdoor Furniture (Optional)
3D Images (16-20 Images)
3D Video (1 Video)
2D Blueprint With Measurements Scaled 1/8"
Follow Up Zoom Meeting For Revisions. Package Includes One Design Revision If Needed.
Revisions With New 3D images, Video & 2D Blueprint With Measurements Scaled 1/8"
Note: For Building Department Permitting You Will Need The Engineering and Steel Calculations Provided With The 1999.00 Complete Package. If You Upgrade To The Builders Plan" Your $399.00 Will Be Credited Toward The 1999.00 For The New Total Of 1600.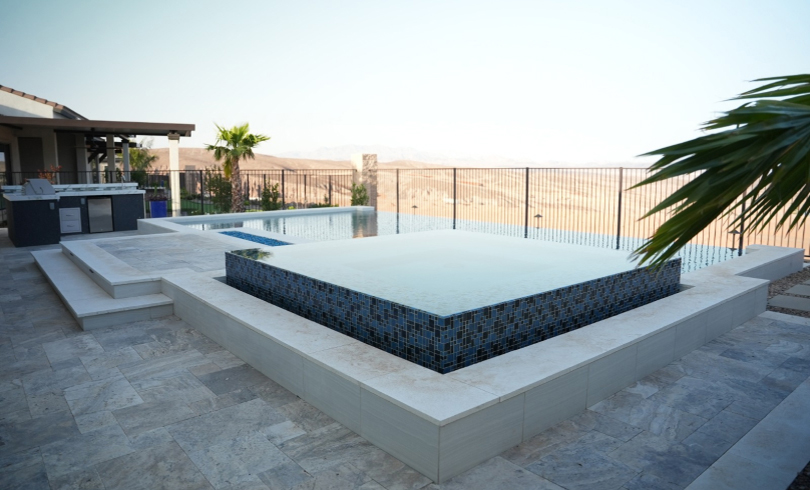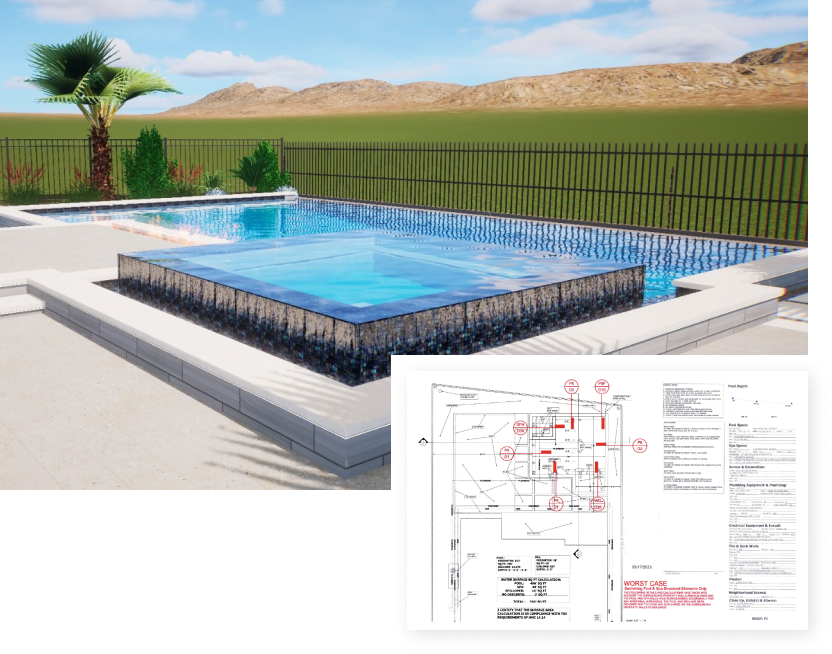 Complete Blueprints Including:
Plumbing Runs & Equipment Set with Diagram
Gas Line Runs
Electrical Runs
Drainage Runs
Access Details and Yard Enclosure Information (Gate)
All Required Blueprint Callouts
Engineering & Steel Calculations Needed For Your Permit Process
Builders Packet. PoolAid Project Package Shipped With The Following.
PoolAid Builder Project Binder Organizer.
5 – 11'x17' Official Building Blueprints Needed For Your Subs & Building Department
Thumb Drive With Complete Package Blueprints, Engineering & Paperwork Saved For Your Convenience
2D Pool Equipment Schematic
Pool Aid Suggested Pool Equipment Package Proposal With Drop Ship Delivery. Pool Equipment Proposal Can Be Provided Upon Request