Custom Swimming Pool Plan & Blueprints
Swimming Pool Plans & Blueprints
Currently offered in Nevada, California, Utah & Arizona.
Our main design process starts with a preliminary, this is a prerequisite to all other services we offer.
Phone Call Or Zoom Meeting To Go Over All The Details For Your Project.
On-Site Project & Pool & Spa Excavation Layout Prior To Dig.
Custom Schedule for Your Build (Spreadsheet)
Constant Support During Every Building Phase.
Date For 1st Concept Completion for Your Review (Always Within 1 Week Of Zoom Meeting)
Your 3D Concept Pictures & Video Will Include The following.
Pool Design
Attached Spa (Optional)
Raised Bond Beams (Optional)
Attached Water Features (Optional)
Firepit (Optional)
BBQ Concepts (Optional)
Patio Cover (Optional)
Hardscape & Deck Work
Basic landscape
Yard Lighting
Outdoor Furniture (Optional)
3D Images (16-20 Images)
3D Video (1 Video)
2D Blueprint With Measurements Scaled 1/8"
Follow Up Zoom Meeting For Revisions. Package Includes One Design Revision If Needed.
Revisions With New 3D images, Video & 2D Blueprint With Measurements Scaled 1/8"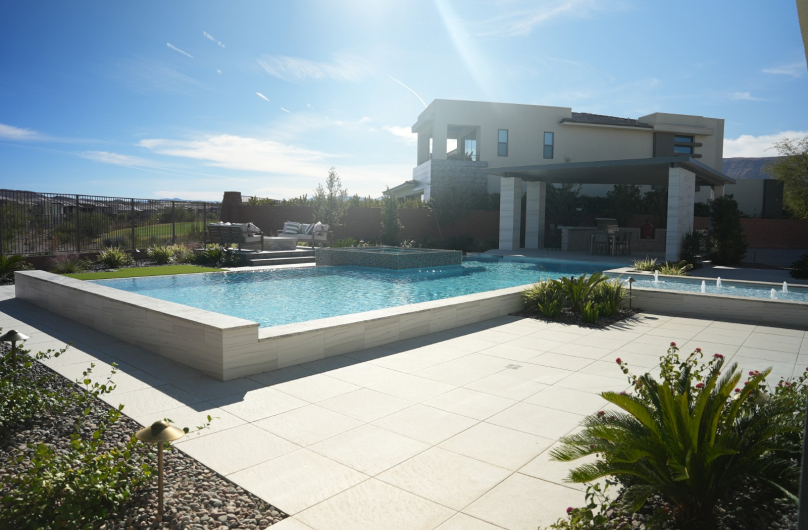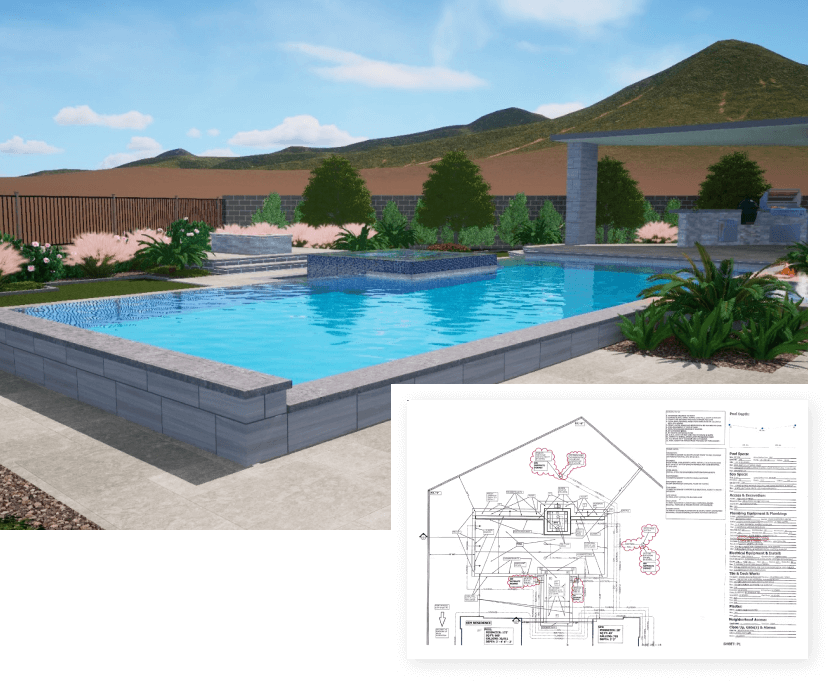 Complete Blueprints Including:
Plumbing Runs & Equipment Set with Diagram
Gas Line Runs
Electrical Runs
Drainage Runs
Access Details and Yard Enclosure Information (Gate)
All Required Blueprint Callouts
Engineering & Steel Calculations Needed For Your Permit Process
Builders Packet. Designs By PoolAid Project Package Shipped With The Following.
Designs By PoolAid Builder Project Binder Organizer.
5 – 11'x17' Official Building Blueprints Needed For Your Subs & Building Department
Thumb Drive With Complete Package Blueprints, Engineering & Paperwork Saved For Your Convenience
2D Pool Equipment Schematic
Designs By Pool Aid Suggested Pool Equipment Package Proposal With Drop Ship Delivery. Pool Equipment Proposal Can Be Provided Upon Request