Ever gazed at your backyard pool, wishing it shone with the same vibrancy and allure as the pristine pools in glossy magazines?
With time, pools can show signs of age, becoming faded and less appealing. Beyond the surface lies not just an aesthetic issue but potential hazards too. But what if there was a way to breathe new life into your pool, transforming it into a stunning oasis?
Delve into our comprehensive guide on pool resurfacing to unlock the secrets to rejuvenating your beloved aquatic retreat. 
What is Pool Resurfacing?
Who wouldn't want to dive into a swimming pool scene straight from the iconic movies of yesteryears, where the shimmering water sparkles under the sun? 
Pool resurfacing is your ticket to restoring that silver-screen magic to your own backyard pool. You could say that just like our skin needs exfoliation, our pools need resurfacing. When you resurface a pool, you're essentially giving it a fresh, new layer, revamping its appearance and ensuring its functionality.
What Signs Mean Resurfacing a Pool is Needed?
Just as a seasoned swimmer can spot the subtle signs of a pending storm, a pool owner needs to recognize when their pool cries out for a makeover. Like ripples in the water, certain symptoms indicate it's time for resurfacing.
Let's dive into these telltale signs and keep your pool in pristine condition.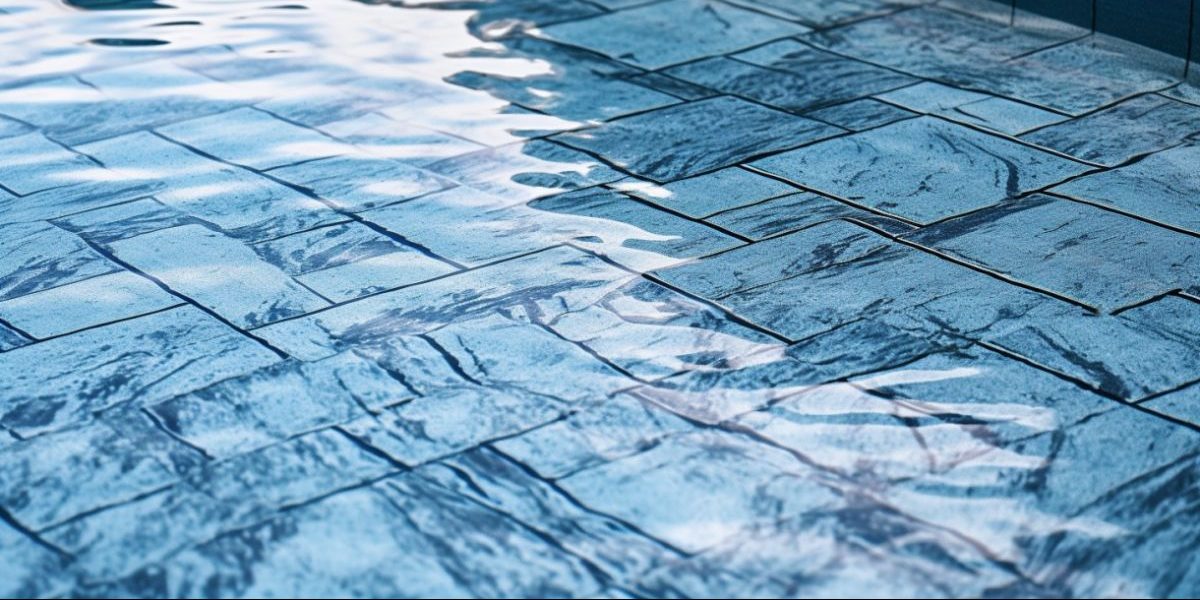 Fading or discoloration
Do you know how your favorite pool float loses its vibrant color after endless summers under the sun? Your pool surface is no different. Over time, your pool might not look as blue as it once did. Discoloration can be a telltale sign, nudging you toward the process of resurfacing a pool.
Cracks and chips
Like a pool game gone wrong, sometimes unexpected cracks and chips can appear on the surface. Not only are these unsightly, but they can also compromise the structural integrity of your pool. It's not just about aesthetics; it's about safety too.
Water leaks and high water usage
Imagine trying to fill a bucket with a hole at the bottom—it's as fruitless as swimming against the current. If you notice your water bills skyrocketing or your pool losing water at a rapid rate, resurfacing a pool might be the solution you're looking for.
Rough texture
Remember the thrill of diving into a pool for the first time, feeling the smooth surface under your feet? If your pool's surface now feels more like sandpaper and less like silk, it's a sign. A rough texture can be uncomfortable and even dangerous for swimmers.
Choosing the Right Time for Resurfacing
Diving into the world of pool maintenance can feel overwhelming, but just like timing your perfect dive, choosing the right moment for pool resurfacing is crucial. Factors like your pool's age and weather conditions play pivotal roles in ensuring the makeover is seamless and effective.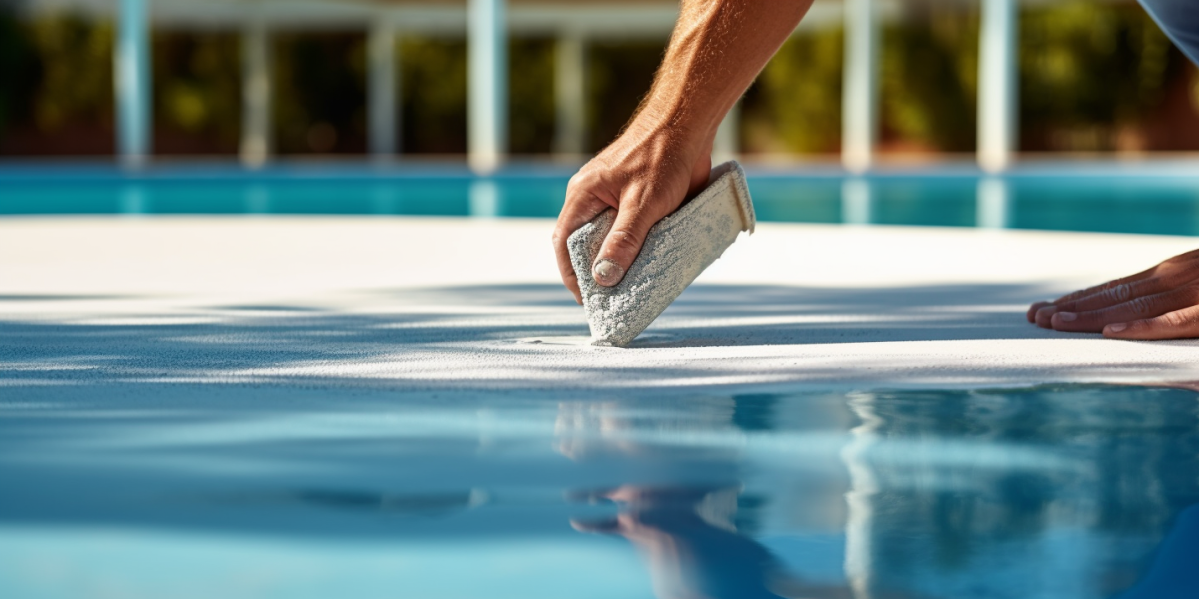 Age of the pool
Like that old swimming pool ladder that's seen better days, age catches up with all things—even pools. As your pool gets on in years, its surface may start showing signs of wear and tear. This is the universe telling you it's time to resurface your pool.
Weather considerations
Resurfacing a pool in the midst of a rainy spell? It's like trying to swim laps during a pool party—possible, but not ideal. Weather plays a pivotal role in the process of resurfacing a pool. Ideally, dry and moderately warm conditions make for the perfect backdrop.
How Often Should You Resurface Your Pool?
Think of pool resurfacing like your summer pool parties: you don't host them every weekend, but every so often, to keep things fresh. Meanwhile, integrating your swimming pool plans with the right resurfacing material can make a world of difference.
Generally, depending on the type of material used, a pool may need resurfacing every 5 to 15 years. It's not about clock-watching but more about keeping an eye out for the signs.
Types of Pool Resurfacing Materials
Navigating the waters of pool maintenance, one comes across a multitude of choices, especially when it comes to resurfacing materials. Moreover, as you ponder over different materials, considering different parts of a pool becomes essential.
Just as pools have evolved from simple dips to luxurious lagoons, resurfacing materials too have made a splash with varied options.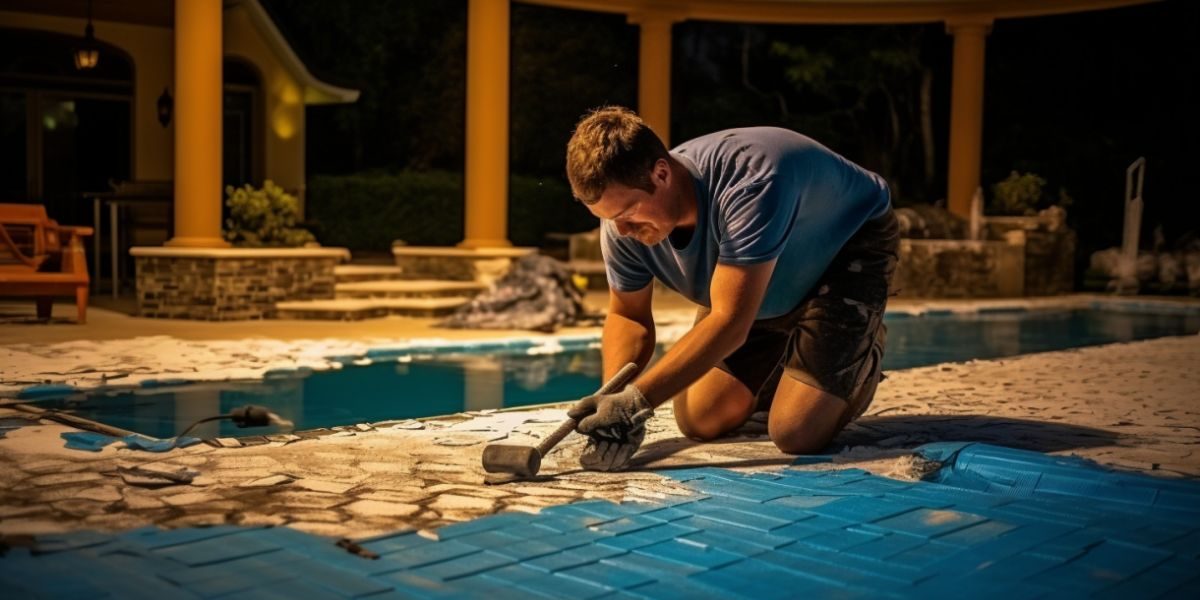 Plaster
The classic choice, plaster, is the equivalent of the traditional pool dive—simple, elegant, and time-tested. It's a blend of cement and sand and has been the go-to for pool owners for decades.
Pebble finishes
Stepping into a pool with a pebble finish feels like a gentle massage for your feet. Pebbles embedded in the surface not only offer an aesthetic upgrade but are also known for their durability.
Aggregate finishes
Imagine the blend of elegance and rugged charm—that's what aggregate finishes bring to your pool. These combine plaster with pebble or glass beads, giving you the best of both worlds in pool resurfacing cost and appearance.
The Pool Resurfacing Process
Taking care of your swimming pool isn't just about having a dip during those sun-soaked afternoons; it's also about ensuring it stays in tip-top shape. Let's take a deep dive into the pool resurfacing process, which, by the way, is a bit like giving your pool a fresh coat of paint and making it the envy of the block!
Draining the pool
Imagine diving into an empty pool – ouch, right? Well, before you can resurface a pool, you need to drain all the water. Just like you wouldn't dive into an empty pool, you shouldn't try resurfacing one full of water either. The process starts with a good draining, ensuring every last drop is out. But remember, always consult with pool resurfacing professionals before taking the plunge. It's a tad more complex than just pulling out a plug!
Surface preparation
Now, here's where you and your pool begin to rekindle your bond. Once it's all dried up, the next step is akin to cleaning up after an epic pool party. The pool's surface needs a thorough clean-up – removing algae, debris, or any other unwelcome guests. But wait, there's more! If your pool has seen better days with cracks or damage, you'll want to patch things up. It's just like fixing those pool toys that have seen one too many summers. It's essential to have a smooth surface for the next steps.
Priming
Applying the primer is like putting on sunscreen before taking a sunbath by your pool. The primer ensures that the new surface adheres well. This stage is crucial, just like getting your pool's pH level right. You want a bond that lasts, not a fleeting summer fling. So, once you've made sure the pool's surface is all neat and tidy, apply a high-quality primer. And if you're unsure about which one's best, don't hesitate to contact our professionals.
Finishing the new surface
If pool parties were art, then this step is where you'd be laying down the finishing brushstrokes on your masterpiece. Selecting the right finish for your pool is a game-changer. From quartz to pebble finishes, you've got plenty of options. 
Consider it like choosing between a butterfly or a freestyle swim – each has its charm. Your choice will determine your pool's final look and texture. And just like perfecting that diving technique, you want to ensure the application is smooth and even.
Refill and balance the pool water
Now, for the grand finale! Once your resurfacing project is dry and set, it's time to refill your pool. But hold your floaties! Before diving back into the deep end, you need to balance the pool water. This step is a tad like ensuring the water's just right – not too cold, not too warm. 
Test for pH, alkalinity, and chlorine levels, and make any necessary adjustments. Swimming pool maintenance is an ongoing job, but getting the water balance right after resurfacing is vital.
Estimated Costs of Pool Resurfacing
Let's not swim around the issue – the cost can make some folks feel like they're in the deep end. For instance, if you're considering quartz as a finishing option, you might be looking at an expense between $5,000 and $10,000 for an average-sized pool. Of course, this figure can vary based on your location, pool size, and chosen pool coping options. It's always a good idea to budget for a bit extra, just in case you decide to add some extra flair or face unexpected challenges.
Benefits of Pool Resurfacing
Aesthetic appeal

: Resurfacing your pool is like getting a new swimsuit. It looks fantastic, feels great, and can elevate your backyard's entire vibe.

Safety first

: A damaged or deteriorating pool surface can be hazardous. Resurfacing eliminates the risks, ensuring you and your loved ones can swim without a care.

Longevity

: Think of it as an investment in extended pool life. Resurfacing can add years to your pool, saving you money in the long run.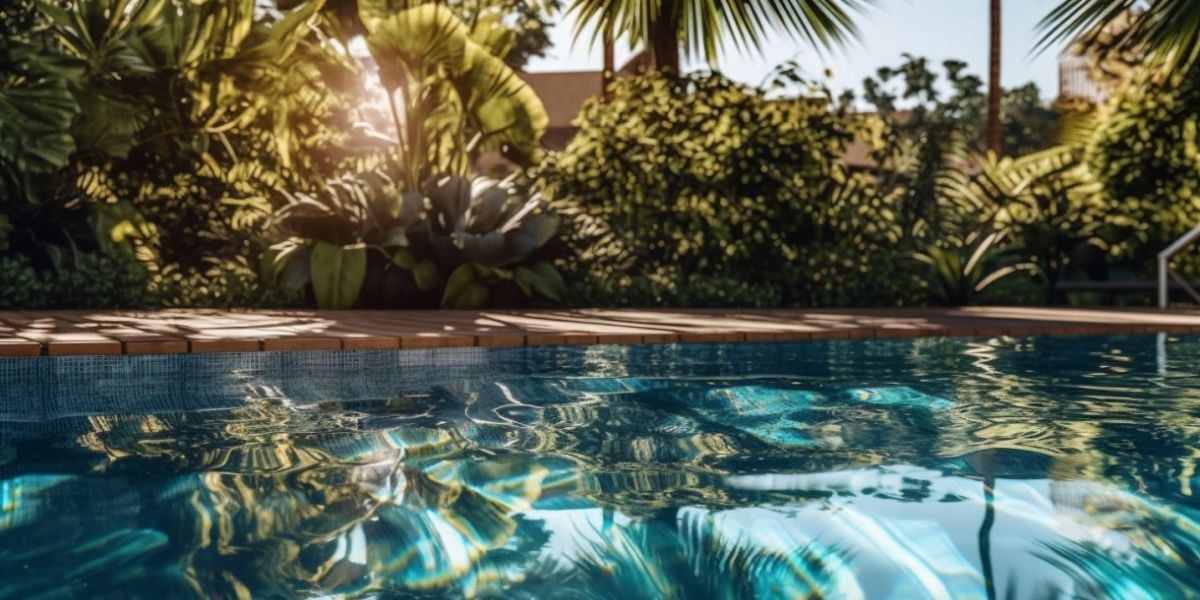 Dive into Excellence
Maintaining your pool's pristine beauty and functionality is an investment in joy and safety. Resurfacing offers a gateway to rejuvenation, ensuring countless memorable dives ahead. Cherish each splash, knowing your pool mirrors the finest standards.