As winter gives way to the warmth of spring, it's time to think about opening your pool for the season.
Imagine hosting fabulous pool parties, enjoying a refreshing swim on a scorching day, or simply lounging by the pool with a cool drink. Achieving a pristine and inviting pool is easier than you might think.
If you're a do-it-yourself person, this blog post will be your go-to guide for preparing your pool for some splashing good times. Read on to learn how to open your pool in spring.
How to Open Your Pool in Spring
When it comes to pool designs, there are various options, such as rectangular, kidney-shaped, or freeform pools.
Regardless of the design, the fundamental principles of pool opening remain the same. The primary difference lies in the equipment and accessories needed to maintain the specific design features, such as water features or attached spas.
Follow the instructions below to get your pool in tip-top shape for the season.
Remove, Clean, and Store Your Pool Cover
Out with the old and in with the new! Start by removing your pool cover, which has been protecting your pool from the elements all winter long. Gently lift the cover off the pool, careful not to let debris fall in. Clean the cover with mild detergent and water, scrubbing off any grime or algae. Allow the cover to air dry before storing it in a cool, dry place for the next winter season.
Get Your Pool Cleaning Equipment Ready
Having your pool cleaning equipment in good working order is essential for a smooth pool opening. Inspect your skimmer, vacuum, brushes, and hoses for any signs of damage. Replace any worn or damaged parts, and make sure everything is clean and ready to go. A stitch in time saves nine, so taking care of your equipment now will save you headaches.
Remove Winterizing Plugs from Skimmer and Return Lines
We're pretty sure you know how to winterize a pool and what it entails when spring comes. During the winter, your pool's skimmer and return lines were likely sealed with winterizing plugs to prevent freezing. As the temperatures rise, remove these plugs and replace them with the regular skimmer baskets and return fittings.
Raise the Water Level Back to Normal
Your pool's water level may have dropped over the winter months. Using a garden hose, fill the pool until the water reaches the middle of the skimmer opening. Ensure the water level is consistent around the pool for proper circulation and filtration.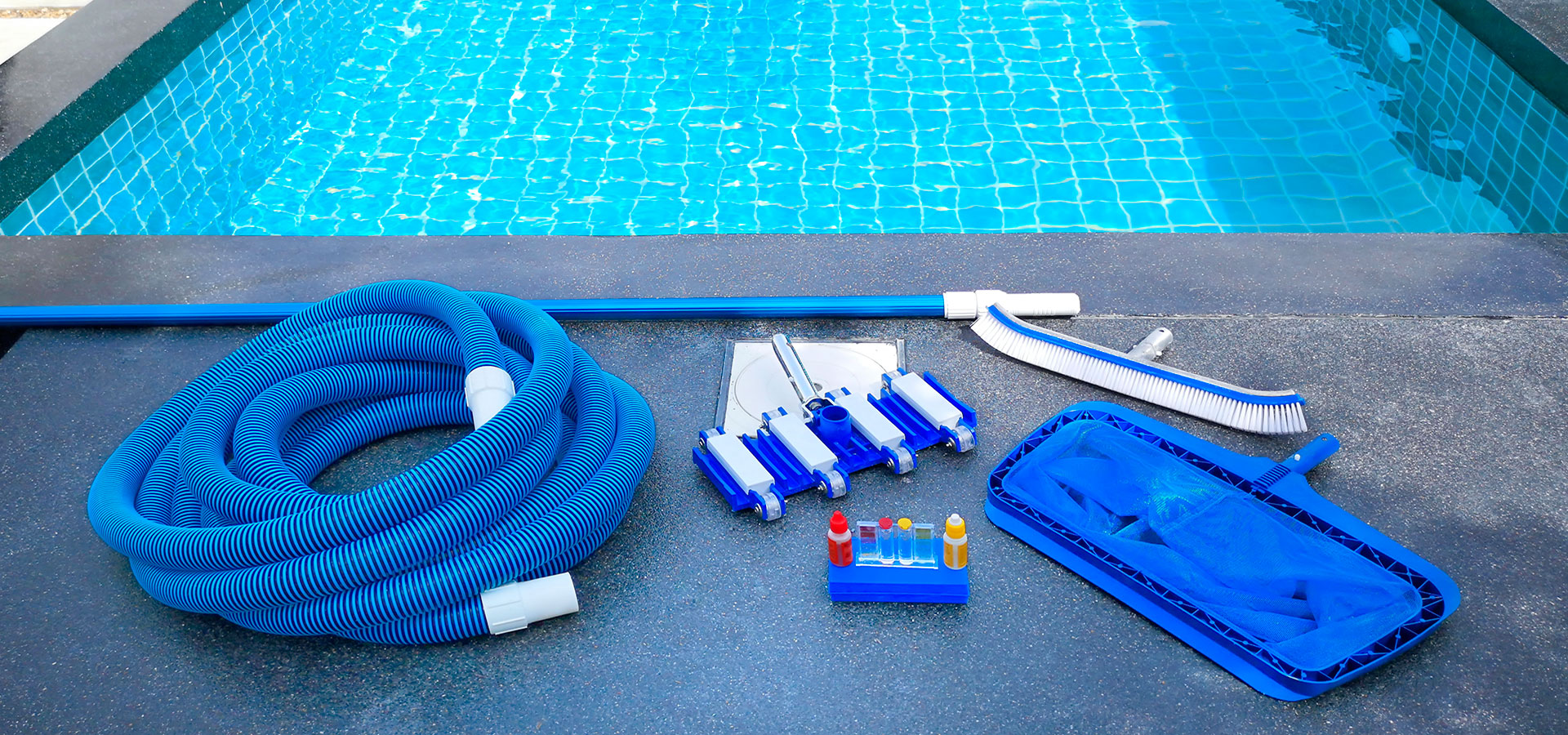 Turn the System Back On
With the water level back to normal, it's time to fire up the pool equipment. Prime the pool pump, turn on the circulation system and inspect for leaks or issues. Listen for any strange noises or vibrations, as these could indicate a problem that needs attention.
Add Stain and Scale Prevention Chemicals
To keep your pool's surface looking its best, add stain and scale prevention chemicals to the water. These chemicals help prevent metal stains and calcium deposits on the pool walls and floor.
Test and Balance the Pool Water
A well-balanced pool is a happy pool. Test the pool water for total alkalinity, pH, and sanitizer levels, making necessary adjustments. Follow the guidelines below for optimal water balance:
Total Alkalinity
Total alkalinity measures the water's ability to resist changes in pH. Aim for a range between 80 and 120 ppm (parts per million) to maintain a stable pH level and prevent scaling or corrosion.
pH
The pH level measures how acidic or basic the water is. A pH level between 7.4 and 7.6 is ideal, ensuring the water is comfortable for swimmers and helps the sanitizer work effectively.
Brush and Vacuum the Pool
Using a pool brush, scrub the pool walls and floor to remove dirt, algae, or debris. Follow up with a thorough vacuuming to keep your pool looking pristine. Remember, cleanliness is next to godliness, so maintaining a clean pool is vital to a successful poo season.
Shock Your Pool Water
Shocking your pool is like hitting the reset button on your water chemistry. It involves adding a hefty dose of chlorine or a non-chlorine shock product to the water to kill bacteria, algae, and other contaminants. Follow the manufacturer's instructions for the proper dosage and allow the pool water to circulate for several hours before retesting the water chemistry.
For saltwater pools, the process of opening is similar to traditional pools but with a few specific considerations. Ensure your salt chlorine generator is clean and functioning correctly, and test the salt levels in your pool to confirm they are within the recommended range.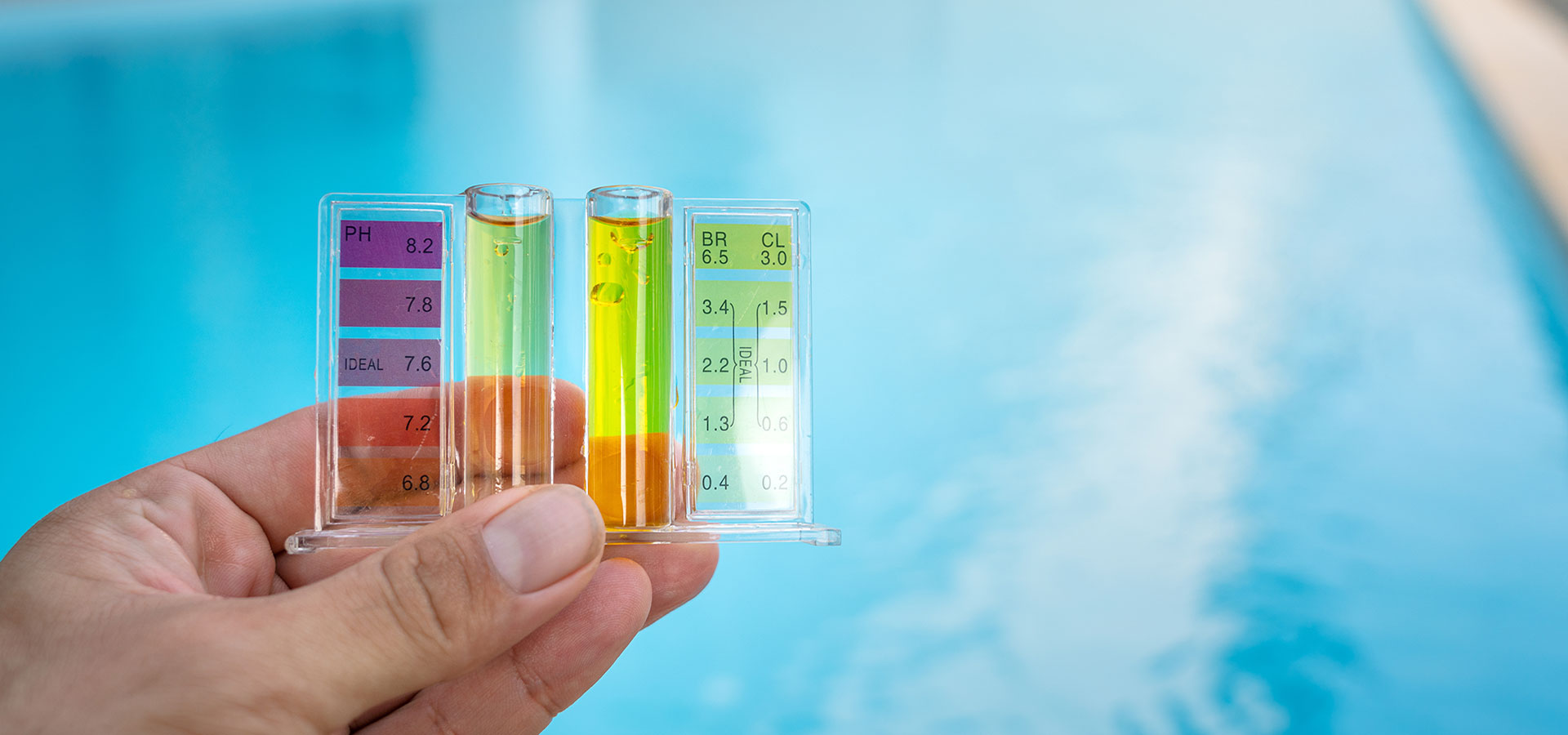 Have Your Pool Chemicals Ready
A well-stocked chemical arsenal is essential for maintaining a healthy and clean pool throughout the season. Ensure you have enough chemicals to last for at least a few months.
No matter the type or design of your pool, whether it's an opening above-ground or opening an inground pool, it's essential to have the right tools and chemicals to make the opening process smooth and efficient.
Chemicals Checklist:
Sanitizer (chlorine or bromine). Sanitizer chemicals are the backbone of your pool's water chemistry, killing bacteria and algae to keep the water safe and clean.
pH Increaser and Reducer. these pool opening chemicals help adjust the pH level of the pool water, ensuring a comfortable swimming environment and efficient sanitizer performance.
Alkalinity Increaser. This chemical raises the pool water's total alkalinity, which helps stabilize the pH level.
Calcium Hardness Increaser. As its name suggests, it increases the calcium hardness of the pool water, preventing corrosion and scaling.
Algaecide prevents and treats algae growth in your pool.
Clarifier. This product helps clear cloudy pool water by clumping small particles together so the pool filter can easily remove them.
Shock Treatment. A pool shock product is essential for maintaining water quality and eliminating contaminants.
Consider purchasing a pool opening kit if you want a more convenient way to maintain different types of pools. These kits are convenient and cost-effective, as they typically contain all the necessary chemicals to help you balance and prepare your pool water for swimming. These kits often include most of the products discussed on the checklist.
Conclusion
Opening your pool in the spring may seem daunting, but with this step-by-step guide, you'll be well on your way to a successful pool season.
Take the time to prepare your pool and equipment, test and balance the water, and stock up on necessary chemicals. With some light work, you'll have a crystal-clear pool ready for your friends and family to dive in and enjoy.