If you're thinking about how to build your own swimming pool or planning a pool renovation project, it's important to think about the decking. A pool deck has a huge impact on the overall aesthetics and functionality of any pool area, and there are lots of pool decking options to choose from. This guide will cover all you need to know about picking the right pool deck.
What Is Pool Decking?
A pool deck is simply the hardscape area that surrounds the pool, where people can walk around the pool or sit beside it. This space can also be called a "surround", and a pool deck may be made of various materials – there are lots of pool deck design ideas and pool deck finishes for homeowners to consider.
Pool Deck Material Options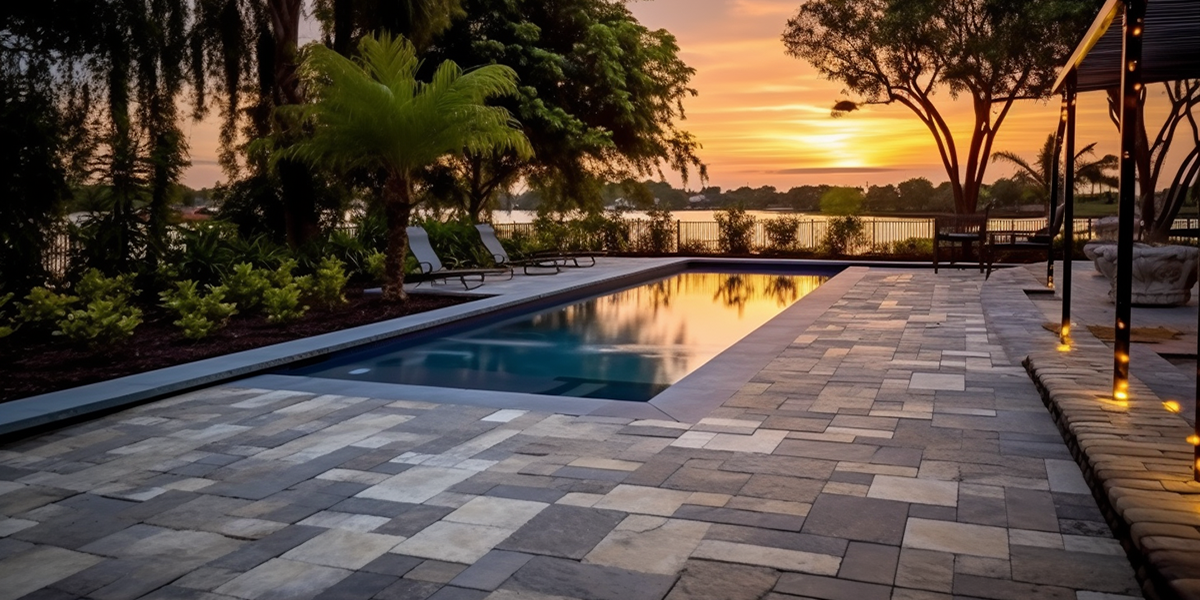 As well as choosing from different types of pools when designing or building your own backyard pool, you can also select from an array of pool decking options. There are numerous pool deck ideas and pool deck paint colors to opt for, and here are some of the main pool decking options to consider:
Concrete – Concrete is one of the most common choices when it comes to how to build an above-ground pool deck. It's really easy to work with, as you can simply pour it into place, and it's very affordable when compared to other fancier materials.

Natural Stone – Along with concrete, you might also like to design a sundeck pool with natural stone, including the likes of flagstone, slate, or marble. These kinds of pool deck materials can be very decorative and beautiful to admire.

Pavers – Pavers are large slabs of stone that can be placed around a pool deck. They may be made of

different types of stone

, and there are lots of pool deck ideas that involve placing pavers in set patterns or layouts to achieve a desired aesthetic.

Tile – Tiles can also be installed around pool decks, such as travertine tools. However, it's important to make use of unglazed rather than glazed tiles, as glazed variants can be a little slippery when wet, which could make the pool areas dangerous.

Wood – Other pool deck ideas are designed around wood decks. Wood is a warm and pleasant material to work with, but you need to use a strong and water-resistant option, like cedar, for best results. A good benefit of wood is that you can paint it, and there are

various pool deck paint colors to try

.
What Is the Best Low-Maintenance Pool Decking?
So, let's imagine you're wondering how to build an above-ground pool deck that will last for years with minimal maintenance. In that case, a concrete pool deck is probably the best choice, as it should be very strong and require minimal upkeep. Pavers can also be great, as even if one gets damaged, you can just replace it with a new one with minimal expense.
What Decking Is Best Around a Pool?
In terms of the best option for a sundeck pool, it really depends on your own tastes, preferences, and your budget. Each pool owner needs to think about which style of deck works best for them, fitting their budget while also providing great aesthetics, low-maintenance levels, and a nice fit with the rest of the pool area.
What Is the Ideal Pool Deck Size?
The right size can vary based on how much space you've got and how big the pool is. In general, experts say that a pool deck should be at least as big, in terms of square feet, as the surface of the pool itself. So, if you've got a 500-square-foot pool, try to make your deck at least 500 square feet, too.
However, it also depends on other factors, like how you plan to use the deck. If you want to host big BBQ parties or put a lot of sun loungers around the deck, you may need more space. Cost matters, too, as larger decks will cost more money to make. Speak with a professional pool designer to get some ideas and estimates.
Concrete Pool Deck Ideas for In-Ground Pools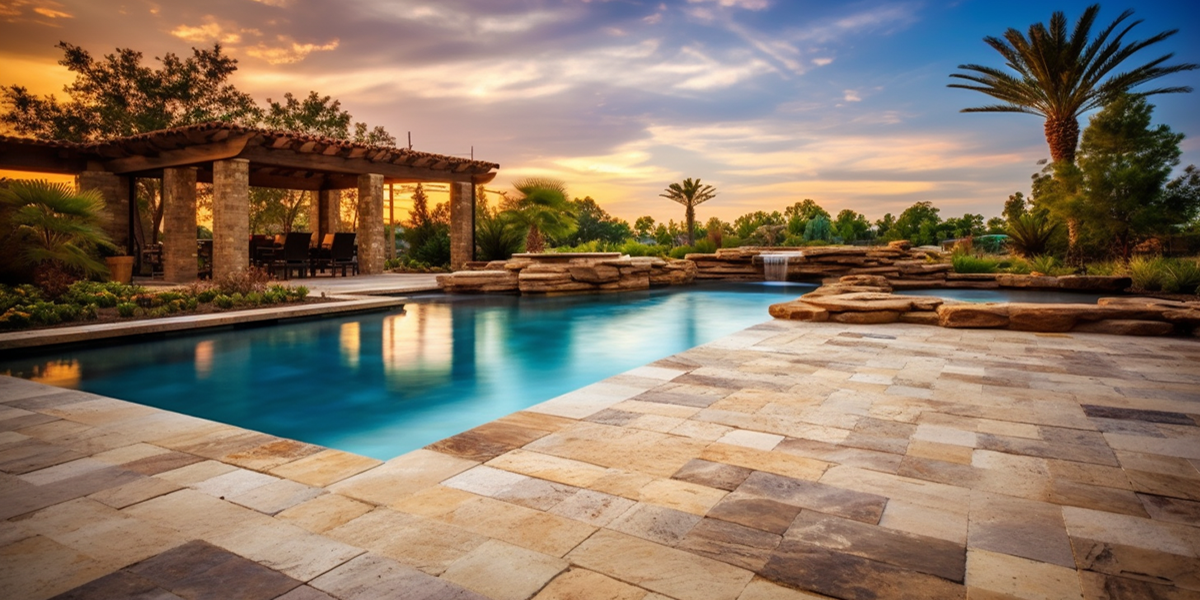 Given that concrete is such an affordable, strong, and versatile material, it's one of the best choices. Here are some ways in which you can play around with a concrete deck:
Simple But Stylish – Concrete may seem simple and sleek, but it can also be very stylish. Opt for straight lines and a minimalistic approach with your deck, and choose a light gray tone for a truly chic look.

Imitation – Concrete can be stamped to look like a range of other materials or stones. You can have it made up to look like cobblestone, brick, and even pavers. This gives you the durability of concrete with the aesthetics of other materials, perfect for

pools on a budget

.

Colors – You can also stain concrete in a variety of colors and shades, from gray to brown, beige, red, and more. Coloring your concrete is a great option to help it blend in with the surrounding environment. 
What Is the Price to Build a Deck Around a Pool?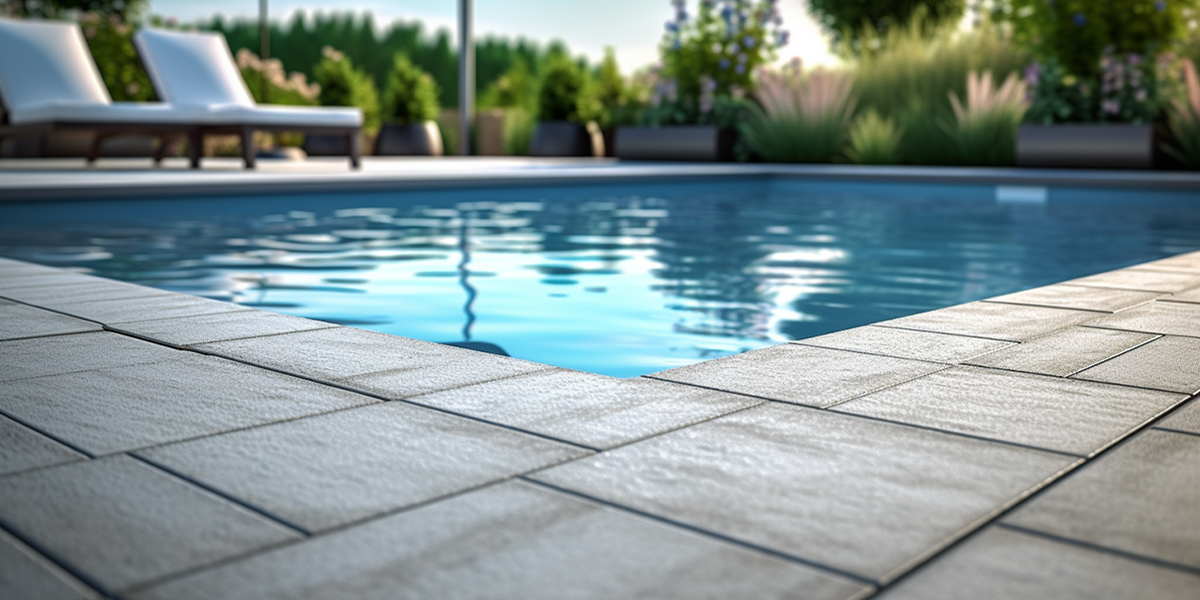 Finally, let's talk about costs. When it comes to how much a swimming pool costs to build, there are numerous factors to take into account, like the size, depth, and type of the pool, but also the deck that surrounds it and any pool deck cover or other elements you need.
Pool decks can vary from as low as a couple of thousand dollars up to $10,000 and beyond. It depends on lots of factors, like the material, size of the deck, and the amount of labor required to construct it.
When it comes to travertine vs concrete pool deck cost, for example, concrete usually works out cheaper, and a DIY pool deck will be much cheaper than one built entirely by professionals. You'll need to weigh up material and labor costs and get some estimates to make sure you stay on budget.
No pool can be complete without a deck, and as this guide shows, there are lots of deck materials, colors, and options to choose from. If you're building your own pool or planning a new deck, take your time and consider all the options available to you so you make a great choice that you won't regret later on.