Many individuals revel in a sense of envy while perusing photos of opulent pools located in affluent backyard settings. This sentiment is pretty commonplace.
The notion that extensive outdoor space is a prerequisite for pool possession has ended up being outdated. Whether you've got restrained space or are limited by way of budgetary considerations, the aspiration of possessing a personal oasis can be realized without difficulty than one may anticipate.
Explore our curated series of imaginative and powerful principles for small backyard pool installations. Your non-public haven within the outdoors is inside reach!
What is the best Pool for a Small Backyard?
Diving straight into the deep end of small backyard pool ideas, it's clear that not every pool is going to fit every backyard. Much like a synchronized swimmer needs the right rhythm, your backyard requires a pool that aligns with its size and shape. If you're feeling unsure about which direction to take, there's no need to worry!
When space is a constraint, swimming pool plans often lean towards compact designs. Now, you may be pondering, "Which types of pools are suitable?" Well, much like deciding between the shallow and deep ends, the answer is based on personal preference. However, if it's the perfect pool idea for the small backyard you're seeking, read on.
Budget-friendly Small Backyard Pool Ideas
Transforming your backyard with a shimmering pool might sound like a lavish proposition, but there are countless ways to dive without sinking your finances. While visions of Olympic-sized paradises can be tantalizing, smaller, more budget-friendly pools are often just as refreshing and stylish. Let's break down a few options:
Above-ground pools – Priced between $1,500 to $5,000, these pools are the most wallet-friendly and are popular choices for many homeowners. Typically made of vinyl, metal, or fiberglass, their main allure is the ease of setup. With the addition of a classy wooden or composite deck, you can elevate the aesthetics and make it look like a million bucks.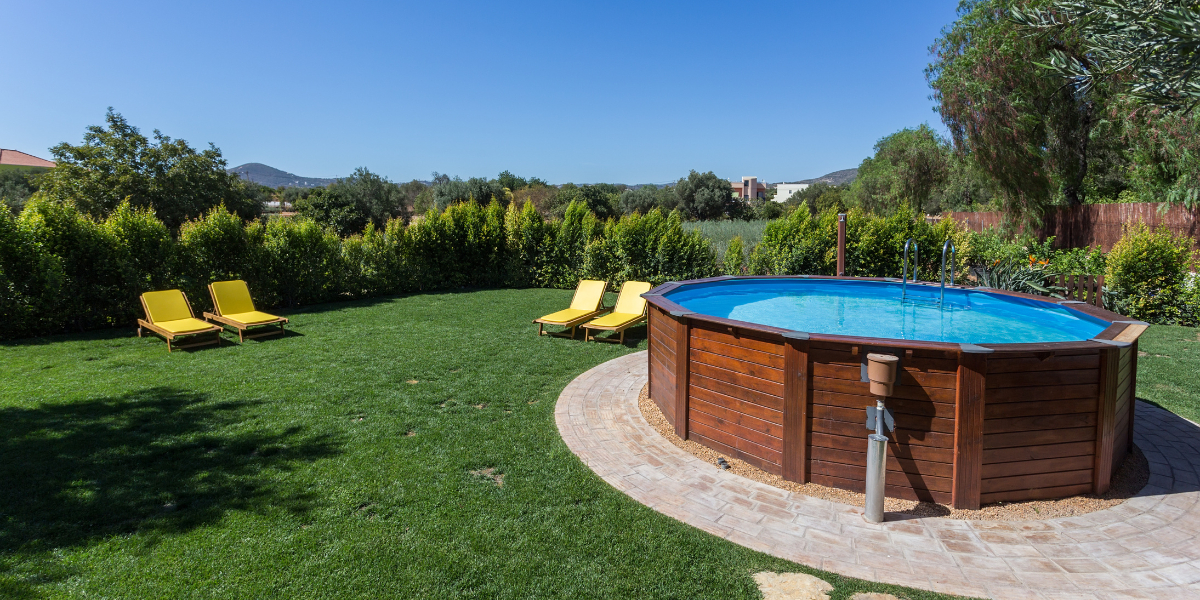 Stock tank pools – For those chasing a rustic or industrial vibe, stock tank pools are a revelation. With price points starting as low as $300 to $500, these galvanized steel or polyethylene tubs are durable and can easily be jazzed up with some exterior paint or decking.
Vinyl liner pools – Among in-ground options, vinyl liner pools are a cost-effective choice, usually ranging from $20,000 to $40,000. Their customizable shapes make them a favorite for those seeking a unique look.
Above-ground pool with decking
Plunge into the classic above-ground pool. Not only is this an affordable solution, but when paired with the right pool decking, it transforms into a chic oasis. Choosing a decking that matches your home's aesthetic. With the right touch, no one will ever suspect it's a pool for a small backyard.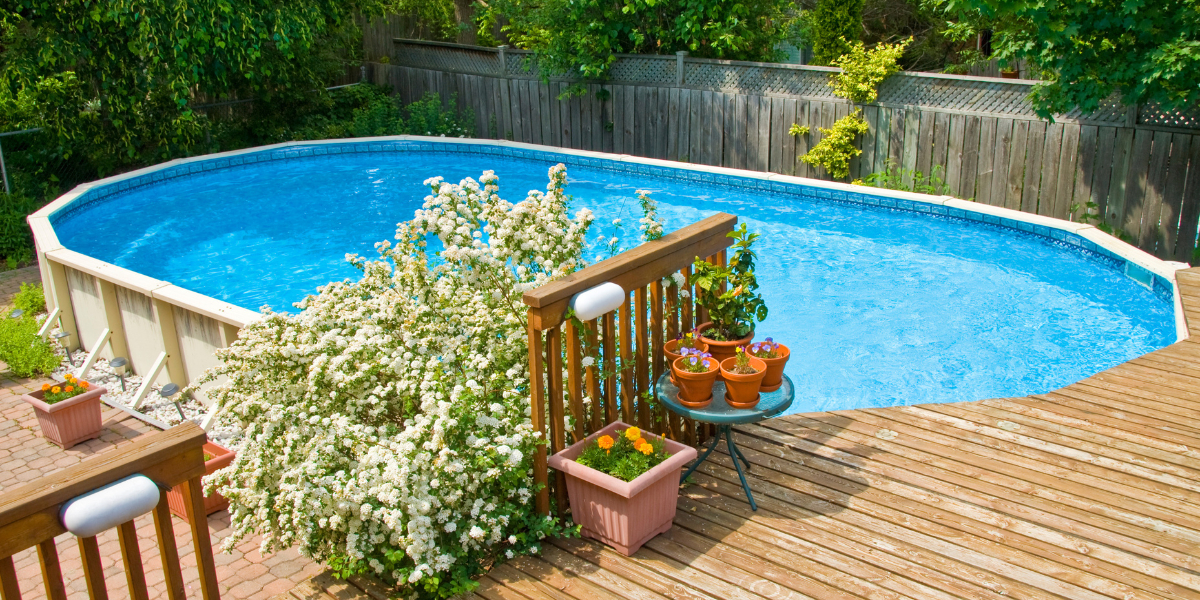 Stock tank pools
Next, drift over to stock tank pools. Often seen on rural properties, these pools are now making waves in urban spaces too. Stock tank pools offer a touch of rustic charm. Paint the exterior, add a few poolside chairs, and before you know it, you've got a budget-friendly small backyard pool idea.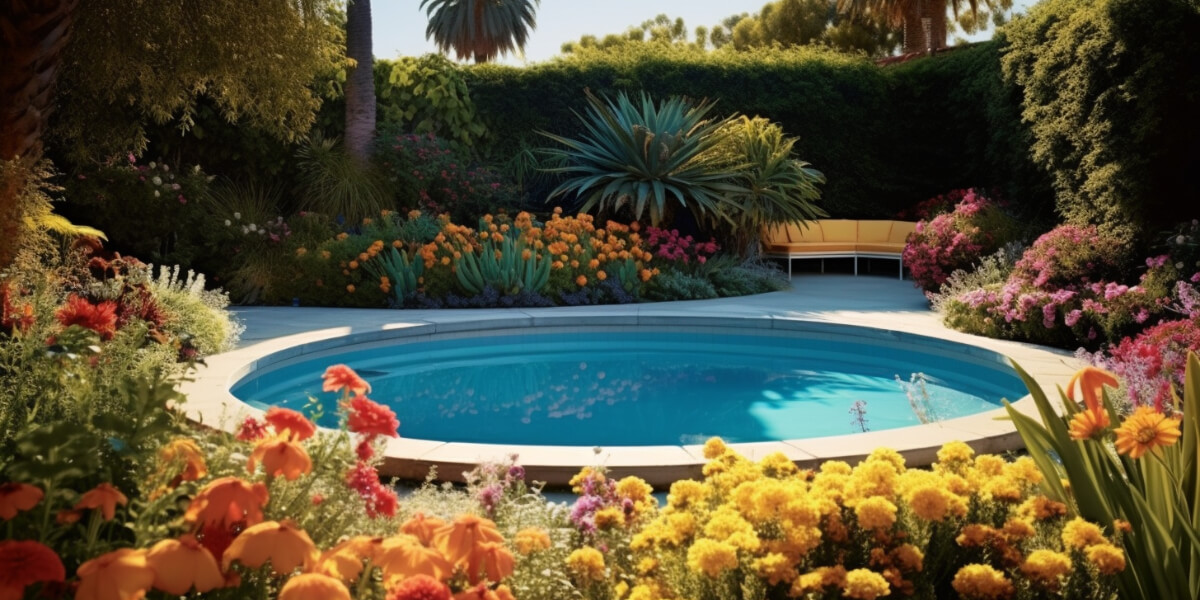 Natural pond or lagoon
Dive into the tranquil waters of a natural pond or lagoon. Though it may sound grand, creating a naturalistic water feature doesn't have to sink your budget. With a careful balance of plants and natural stones, you can achieve that serene oasis look. Moreover, these pools are as refreshing as that first dive on a hot summer day.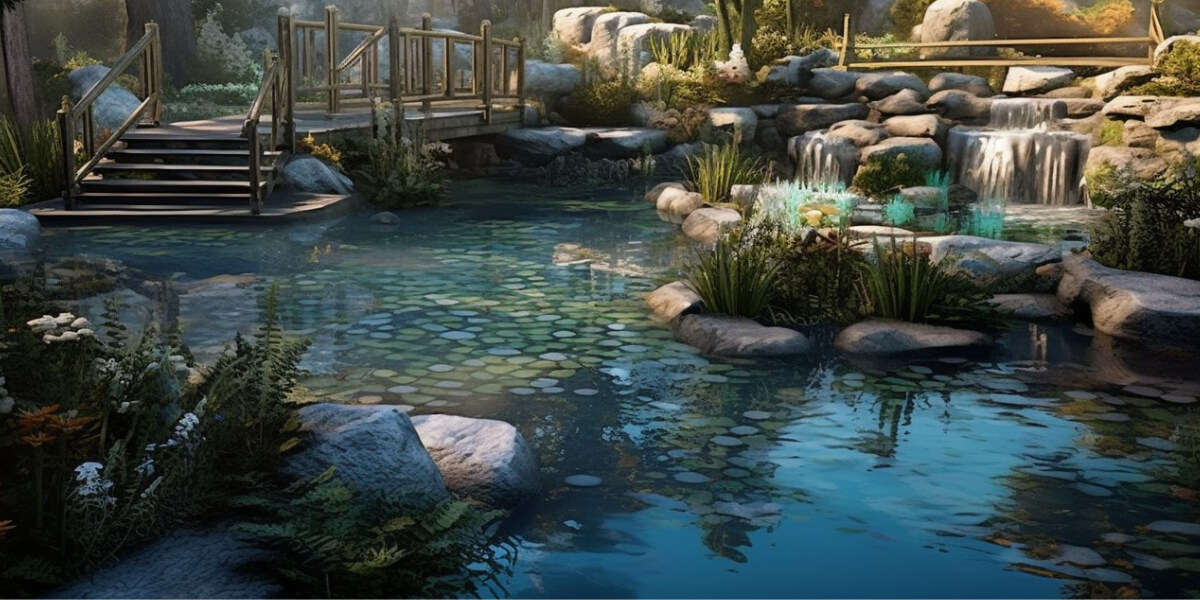 Circular plunge pool
A Circular Plunge Pool is a small, compact swimming pool that is commonly designed in a round shape. It's a surprisingly shallow pool intended for quick, clean dips in place of large swimming. These swimming pools are regularly selected for his or her space-efficient and finance-friendly attributes, making them a famous desire for homeowners with limited outdoor areas or the ones looking for an elegant yet less expensive addition to their outdoor regions. Circular plunge swimming pools provide a chilled and aesthetically attractive water function which can remodel any outdoor into a tranquil oasis.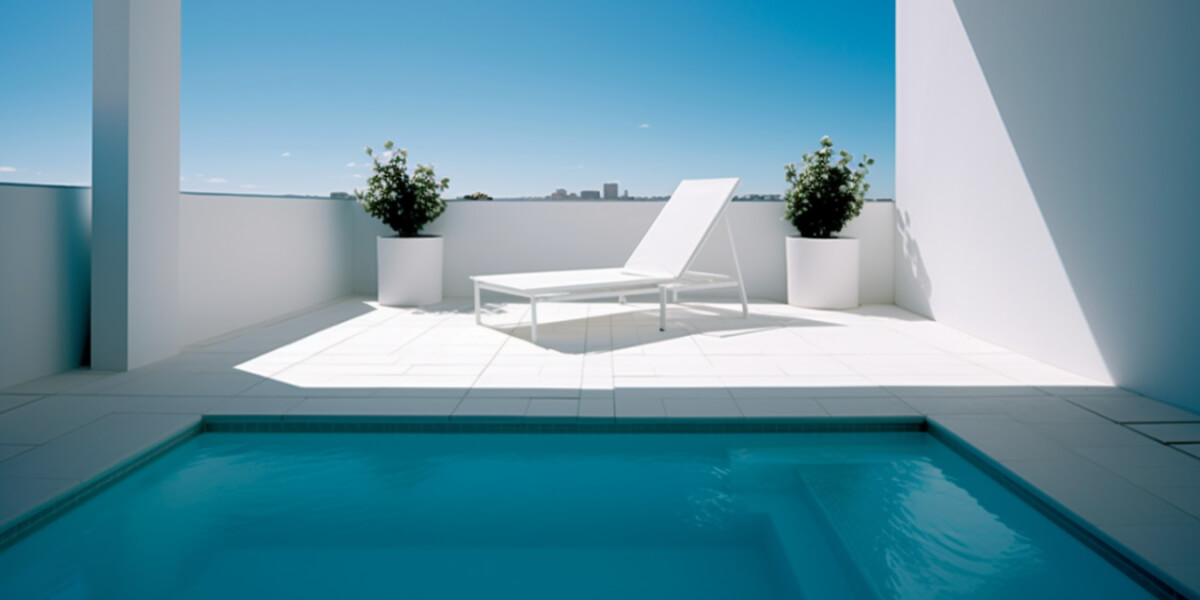 How to Integrate the Pool Design into The Existing Landscape
Much like ensuring your dive has the perfect arch, integrating your new pool into your existing landscape requires a bit of finesse. You want the water to flow naturally into your backyard scene, creating a cohesive look that screams, "Go right in!"
A covered seating area near your compact pool
First, how about a covered seating area? Just as you'd find shade under the poolside umbrella, a seating area provides a place to relax, chat, or sip your favorite drink. It becomes an extension of your pool and a cozy spot for conversations that last long into the evening.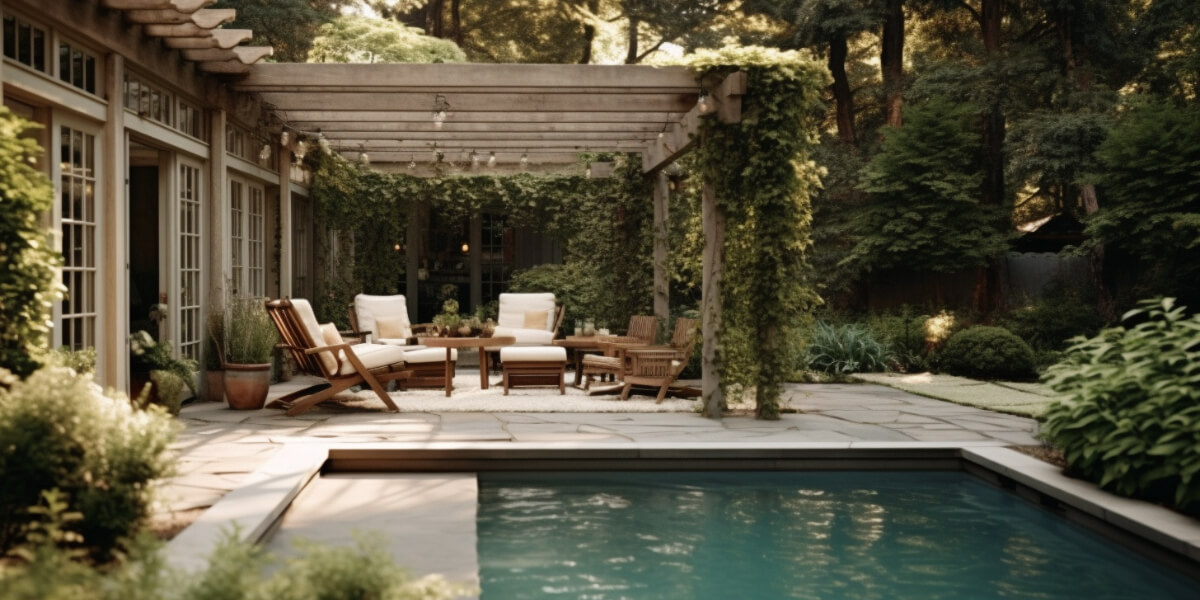 Install pathways around the pool
Imagine the walkways as the lanes in a pool, guiding you from one point to another. Pathways are more than functional; they add an element of design and sophistication. Whether it's stepping stones or decorative gravel, pathways bring a sense of order and beauty, making them essential to any list of small backyard pool ideas.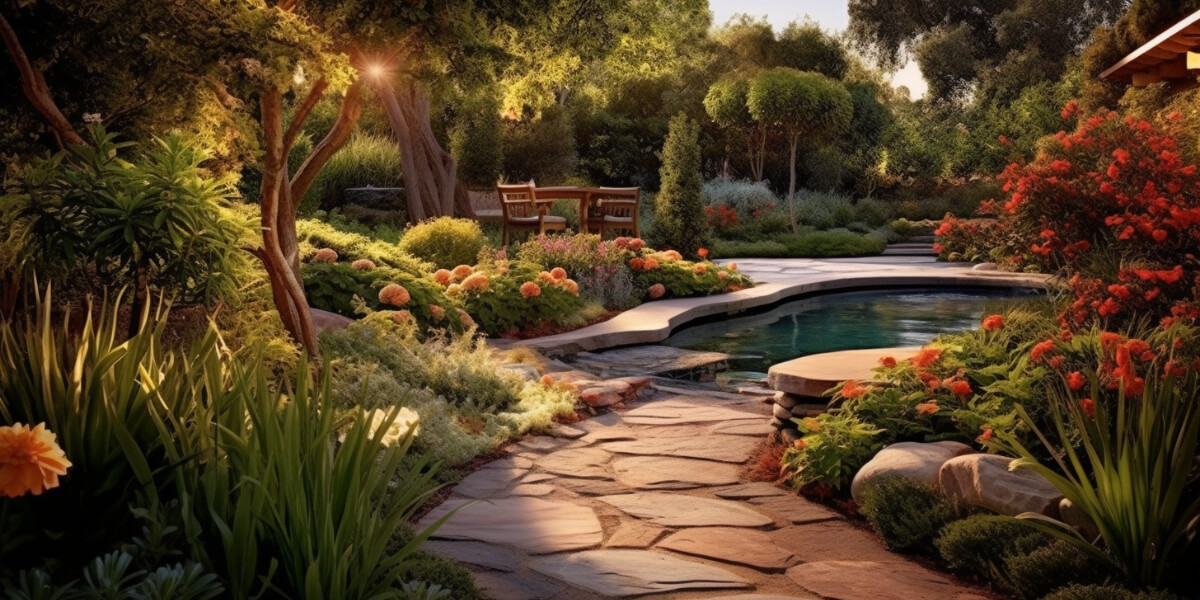 Surround the pool with natural elements
When you surround your pool with plants, rocks, or even water features, you're not just installing a pool; you're creating an experience. Your backyard will be transformed into a sanctuary where every dip feels like an escape from the world.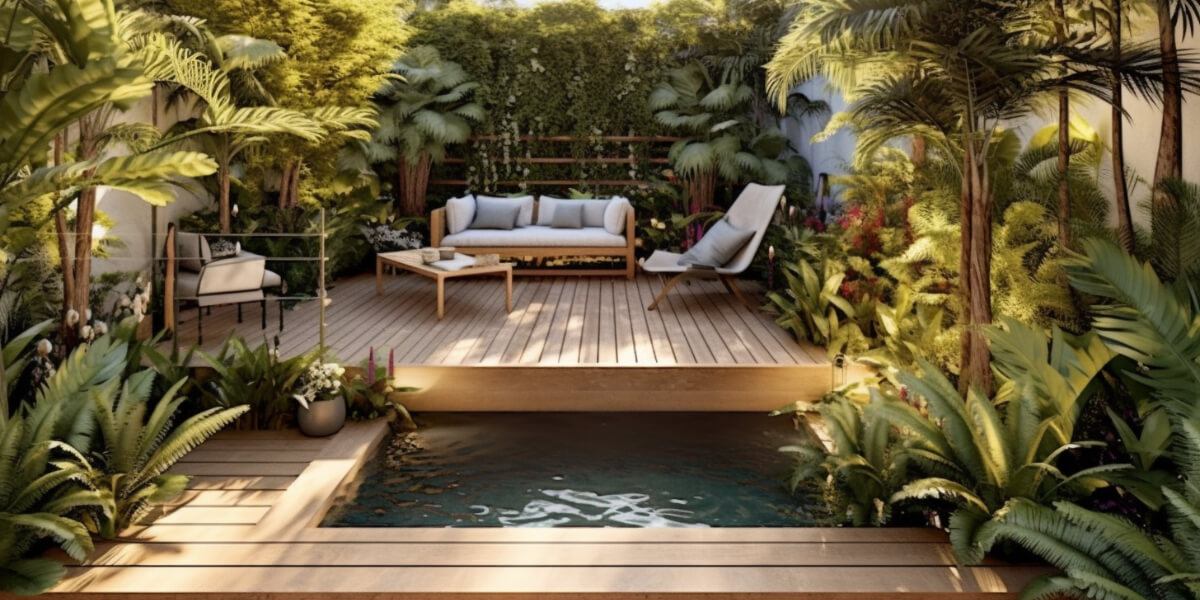 Whether you're doing a freestyle or butterfly stroke, remember that it's your pool and your backyard. So, make sure it reflects you. And when you're ready to make a splash but need some expert guidance, don't hesitate to contact our professionals. We're here to make your pool dreams come true.
 Overall, transforming your backyard into a haven doesn't require a hefty budget or vast space. With the right design, you can create a swimming that enhances your home's value and provides endless summer fun. Dive into the opportunity and make your pool dreams a reality today.