When building a pool, you may want to consider installing a retaining wall. A retaining wall for pool helps to keep the water clean and clear, holding back any dirt, rocks, and debris, preventing them from slipping down into the pool's water. Not sure if you need a retaining wall around the pool? Read on to learn all about them.
Why Choose A Pool Retaining Wall?
If you happen to have a perfectly flat and even backyard space, you probably won't need a retaining wall for pool. However, if you're preparing swimming pool designs in a yard that has a slope, a pool retaining wall may be essential. It helps to block dirt and debris on that slope, providing a barrier to shield the pool and retain soil and other materials.
Purpose and Benefits of a Pool Retaining Wall
As explained above, the main purpose of a retaining wall for pool is to hold back dirt, sand, and other materials on slopes. This stops those materials from blowing down into the water and making a mess. Just like coping and pool decks, retaining walls can be key parts of a pool to consider when building one. They can also offer aesthetic benefits, adding beauty and style to a backyard pool area.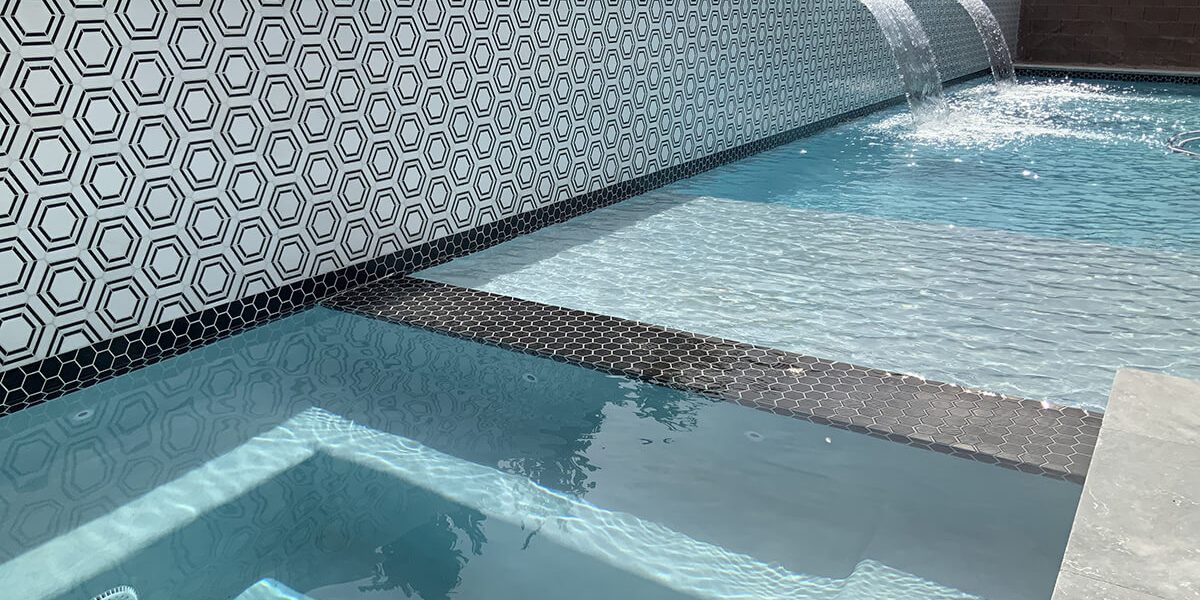 How to Build a Pool with a Retaining Wall?
Typically, if you want to install a pool with a retaining wall, the wall will need to be built first. Building a retaining wall involves preparing a concrete footer or slab at the base. Rebar can then be placed through the deck to reinforce it, and blocks or bricks will be stacked up to form the wall, with mortar and rebar holding everything together.
Once the wall has been finished, the preparation of the pool can begin. This will involve digging out the pool space, pouring in concrete and other materials, selecting relevant swimming pool coping options and deck materials, and so on. You can save money on a pool installation by working with a trusted, affordable provider.
How Much Does It Cost to Build a Retaining Wall?
Average costs for retaining wall construction can vary from as low as $20 per square foot up to $50 per square foot, or higher. The final retaining wall cost will depend on a wide range of different factors, including:
Size: The size of the wall is one of the biggest factors. Naturally, larger walls will cost more money, as they require more time and materials to build.

Materials: The

choice of material

will also affect the final cost. A simple

block retaining wall will cost more than one which is made of expensive, decorative stones.

Terrain: The landscape may also play a part in how the job goes. If the terrain is very steep and hard to work with, the wall will be trickier and more expensive to make.

Location:

The location

of the job may also impact the price. If the homeowners live in a very remote or hard-to-access location, for instance, it'll cost more to get to them.

Labor: Finally, the amount of labor will also need to be calculated. It may take multiple workers to put up a retaining wall, and each will have a daily or hourly rate.
Retaining Walls Cost by Type
There are multiple types of retaining wall you can choose:
Brick Retaining Wall: This is made from

simple bricks

and is one of the cheaper, simpler variants.

Gabion: This is made with

large metal

mesh cages that are filled with stones. It's quick to make and relatively affordable.

Stone Retaining Wall: Stone retaining walls can be more attractive and decorative, with different types and shapes of stones used, leading to higher costs.

Steel Retaining Wall: A steel retaining wall is one of

the strongest

and most expensive variants, but it can last for many years with minimal maintenance.

Vinyl: Vinyl is a

very cheap and simple

material to use for retaining walls but doesn't have the longest lifespan.

Timber Retaining Wall: Finally, it's also possible to use timber for a retaining wall. This can be

expensive

and may require a lot of work.
To sum up, retaining walls can be expensive, but they're also crucial for pools that are installed in sloped yards and spaces. If you're worried about dirt or sand slipping into your pool from a nearby slope, a retaining wall might be just what you need. Contact our professionals to learn more.